This is the third article is this series showcasing yoga teachers and organisations who are bringing yoga to people who generally excluded from classes or studios for a wide variety of reasons like social class, finances, incarceration or general access.
If you're doing some kind of community or outreach yoga and would like to share your story, please get in touch. 
"Following my heart is how I live my life. Sometimes it's really easy, and other times it is challenging and terrifying, but by placing my trust in life itself, the most incredible opportunities and experiences have opened-up.

And when I can't hear my heart, I know the most important thing is to get into a position where I can, and then I listen and the answer becomes clear."
This is Emily Brett, yoga teacher and founder of Ourmala; a small charity in London that helps refugee and asylum-seeking women find strength through yoga. The main group they work with are registered with the UK Home Office to seek refuge in the UK.
I met with Emily at Ourmala's headquarters, a converted shipping container overlooking the trees, field and pig pen at Hackney City Farm in East London.
Emily has changed the lives of more than 170 refugee and asylum-seeking women living in London since starting-up in 2011. Ourmala now has a waiting list of women wanting to practice yoga, and organisations that work with refugees wanting yoga classes at their centres.
I decided to interview Emily so I could understand her story, motivation, and actions behind her grand vision.
Leah: You have created something really special; a space for women who have been forcibly displaced to enjoy yoga. Can you tell me more about the situation for these women?
Emily:
Sure, I'd love to… Many don't realise, but the refugee and asylum-seeking community is one of the most marginalised, under-represented, impoverished, vulnerable and stigmatised in the UK. Eighty per cent of the world's refugees are hosted by developing countries. In the UK, refugees, pending asylum cases and stateless people make-up only 0.27% of the total population (Source: UNHCR 2012 Global Trends Report.)
The women are here to seek refuge and, for most, the situation is dire. I mean, incredibly tough.
Many are dealing with mental, emotional and physical issues from the trauma they faced in their home countries. Torture, sexual violence, human trafficking and female genital mutilation are common experiences.
When they arrive in London, they often know no one and are faced with huge language barriers, poverty, malnutrition, over-crowded or unstable accommodation. For a single person, the National Asylum Seeking Support is £36.62 a week which obviously does not go very far in London.
I've asked women what they do during the day, and a not uncommon answer has been: 'Sit on a bench in the park… or pray in my room….'
Many are separated from their loved ones, which can include not knowing whether they are alive.
Leah: Such strong women who have been through so much. Can you tell me about Ourmala and how it helps these women?
Emily: Ourmala represents compassion, interconnection and social justice and is a continuation of yoga practice off the mat. It's humanitarian action: we believe these women have experienced enough suffering and that they should be welcomed.
In a small way, we aim to achieve a bit of social justice for them and help them find strength through yoga, which then boosts their resilience and helps them cope better with the rest of life.
We provide a safe space for them to breathe and practice yoga, which helps to restore strength.
Yoga can be very powerful for self-esteem and confidence, and healing the mind and body.
The women tell us that yoga helps them sleep, after many sleepless nights; helps to relieve their pain and anxiety, panic attacks and depression, and gives them hope.
It's also an opportunity to meet and connect with women in similar situations – as well as our volunteers, who are from very different backgrounds. Knowing that other people know
 they exist and care means a lot to the women.
Yoga gives you space to come back to yourself. Many have disassociated because of their trauma and, over the long term, yoga starts to make the body a safe and inhabitable place again, if we can look at the body as a home.
It's very grounding. Many of these women have been, or are, suicidal because of their circumstances. When the women confide in me, I just listen. You couldn't make-up the horror of many of the stories and their strength and dignity never fail to move me."
Leah: Now that's reason enough to ensure these women have continual access to yoga!
Emily: We also have a political voice and are starting to support campaigns challenging government policy that negatively affects these women.
The whole point of Ourmala is to practice yoga off the mat, and serve these women in the best way we can. So we're now working a the tactical and strategic levels.
Leah: So how does Ourmala work?
Emily: Once a week at Hackney City Farm, we run free yoga classes based on Ashtanga (physical demanding) and Mindfulness (meditation techniques), provide a hot healthy lunch, social time and English classes.
We also run two other weekly yoga classes in South and West London. We refund the cost of travel for the women, without which most would not be able to attend. (If you're seeking asylum, it's illegal to work, however experienced or qualified you are; and you can be seeking asylum for years. I've known two women who were waiting for 16 years due to their cases being lost by the Home Office.)
We believe that consistency is key for these women, following the instability they have experienced in their lives so when we start a new class, we need to ensure we can keep it up.
One of the ways we pay for the women's travel is through The Mala Initiative programme, where we invite yoga teachers to help raise funds to ensure these women can practice yoga.
It is based on the idea that we are all interconnected. Our world, our lives, our choices. Every action has a consequence and by taking part in The Mala Initiative, teachers can reap really brilliant consequences from the actions they sew – for the women, for their students and for themselves. It's a really simple concept.
Teachers run a class in their own community for their own groups and donate the proceeds to Ourmala, which then uses 100% on putting on the classes for free. The point is to hold their classes regularly (weekly, monthly, quarterly, annually – whatever the teacher can offer).
£5 is all that is needed to allow for one woman to participate. Every little bit counts. This community is growing and it is a live demonstration of generosity and the genuine spirit of yoga. It's a live teaching, if we can call it that…
Ourmala is also seeking funding through grants, fundraising events, donations, partnerships, etc.
Leah: How did it all start?
Emily: Yoga has always been a big part of my life in one way or another, and my practice continues to grow.
My practice is the centre of my life now and informs everything. What we learn about ourselves through yoga never ceases to amaze me.
I've spent extended time in India studying yoga and have been inspired by work there. Yoga to support trafficked children, for example, at Odanadi outside Mysore.
It was the middle of the recession, I'd just come back from my second trip to India, and there were very few jobs. I was lucky enough to be given a filing role so I was financially stable while I worked out what I wanted to do. It felt vital to reflect my deepest experiences in yoga with my work.
I volunteered with the British Red Cross' (BRC) Refugee Services in Islington, started teaching the Vulnerable Refugee Women's Support Group on a voluntary basis and at the same time took on a second job at Hackney City Farm. The women loved yoga and wanted more but it was impossible to run weekly classes and this is where Ourmala was born.
I put my idea to the Farm. I remember being terrified at the time because I wanted it so much. But they welcomed it with open arms. We were given a space to run classes for women and as part of a year-long pilot programme, which started in 2011. We won funding from the Big Lottery, the British Wheel of Yoga, Inchre Trust and Vodaphone World of Difference UK and it's grown from there.
We now take women by referral from over 20 referring organisations, including BRC and Freedom from Torture.
This was all achieved on a shoestring budget almost all by our team of 30 plus dedicated volunteers.
Leah: Absolutely amazing Emily. I'd love to know what Ourmala's plans are for the future?
Emily: We'd love to work with more refugee and asylum-seeking women, and start to work with men, displaced children and young people.
We currently have a waiting list of nine organisations that work with refugees/asylum-seekers in London that would like us to provide yoga at their own centres for existing groups of refugees, and a long waiting list for our Hackney class.
So, we know there's demand and we have evidence for the efficacy of yoga – it all comes down to financing.
We're in the process of applying to the UK Charity Commission to become a registered charity, which will give us more fundraising opportunities. Looking further ahead, once we're financially stable, we intend to become a social enterprise — running our own business activities to fund our social mission."
Leah: How can others help?
Emily: If you're a yoga teacher, join The Mala Initiative. Follow Ourmala on Twitter and like the Facebook page.
The latter both really help with fundraising so even if you're not a big Twitter or Facebook fan, this small action will make a positive difference!
Photography by Carl Bigmore
About Leah: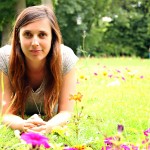 Leah is a passionate storyteller, a multi-skilled communications specialist and a devoted human rights activist. She writes to ignite meaningful connection, to arouse curiosity, to push boundaries, to live large, to speak up, to create change.
She is deeply fuelled by a desire to create ideas and build visions to make this world a better place. A place where we can each equally follow our dreams – regardless of the place we were born, our religious affiliations, our sexual identity, our access to education. Everything in fact to do with the status quo. After studying the causes of conflict and division in society, Leah now uses storytelling to unite people, to create community and to open opportunities for collective action.
Her website, Paper Planes Connect, is a place to celebrate our difference and to unite in our sameness.