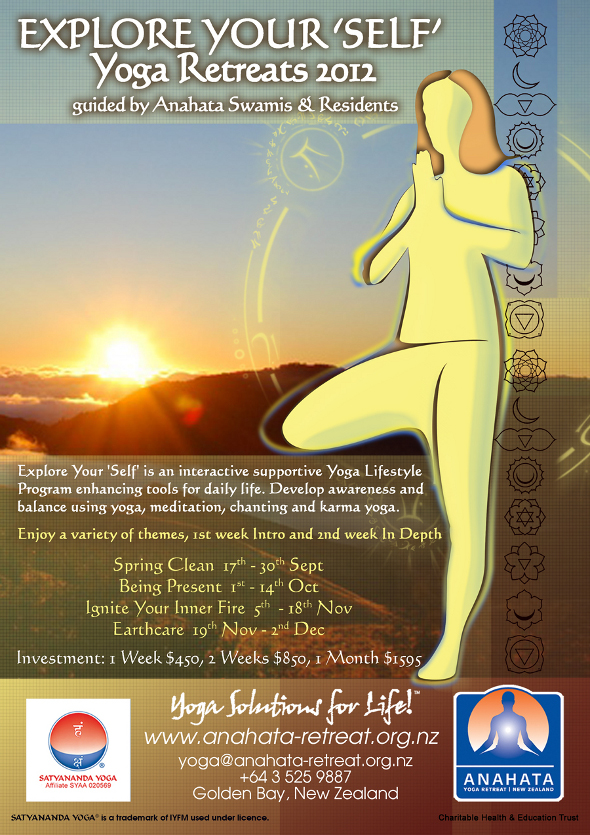 Explore Your 'Self' – In Depth Yoga Lifestyle Retreats, guided by Anahata Swamis & Residents

The Explore Your 'Self' retreat is the best way to come to Anahata for someone who is interested in learning about yoga and all its facets. This retreat will provide you with a broad range of yogic lifestyle tools to take with you as well as deeper insight into your personal practices. Throughout this interactive Yoga Lifestyle Program you will learn to fine tune your awareness and intuition in daily activities.
Experience yogic lifestyle through active immersion into the daily life of Anahata. Receive support and a daily focus in guided intimate group sessions. Learn yogic principles to increase harmony and productivity in daily life. Enjoy regular yoga and meditation classes as well as ancient ceremonies and a mountain top view that will imprint your heart for lifetimes.
Includes:
• Karma yoga (action with meditative awareness)
• Daily chanting
• Satyananda Yoga Nidra™ (deep relaxation)
• Guided meditation
• Satsang (truth talk)
• Hatha yoga class
• Kirtan (singing mantras to music)
• Havan (ancient Vedic fire ceremony)
Every Body is Welcome!
Enjoy a new theme every two weeks! First week is an Intro and the 2nd week more In Depth. Join us for:
Spring Clean Week 1 Sept 17-23 Week 2 Sept 24-30
Being Present Week 1 Oct 1-7 Week 2 Oct 8-14
Ignite Your Inner Fire Week 1 Nov 5-11 Week 2 Nov 12-18
Earthcare Week 1 Nov 19-25 Week 2 Nov 26 – Dec 2
Investment:
Intro (1 week) NZ$450 (6 nights) incl. shared accommodation, all meals & daily schedule. CD and booklet.
Intro and In Depth (2 weeks) $850
1 month $1595
Part HANDS accepted.
20% deposit required to secure your place.
Private Sessions available by appointment:
A unique opportunity to receive practices and insights to suit your personality, body type, health challenges and get direction or a personal program, therapeutic applications and health consultations according to your needs.
30min NZ$55
60min NZ$95
90min NZ$120
For Bookings & Information:
Contact Anahata on E-mail or call +64 03 525-9887