Our three day silent meditation retreats in Peru offer a unique opportunity to spend conscious time with ourselves, exploring our inner universe and the mysteries of our heart.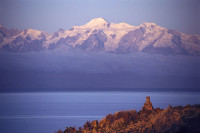 Under guidance of experienced meditation teachers we will meditate in silence, practice hatha yoga and receive teachings and instructions. The retreats aim to bring more inner peace, love, joy and happiness as well as a profound understanding of our true nature.
The retreat is based on the teachings of Advaita Vedanta (Oneness consciousness) and Yoga, we are also integrating teachings from all major spiritual traditions like Buddhism, Hinduism,mystic Christianity, Sufism and Judaism and we recognize their Oneness in essence. We are not foussed on Dogmas but rather try to help the students to get their own inner experiences.
Upcoming Retreats
Our upcoming retreats will begin on October 17th, November 14, December 19th , January 16th, Februrary 13th, and March 13th. To find out more  and to register visit our website.
Schedule
The retreat itself consists of three days of silence with the following schedule:
7.00-9.00 Meditation with breaks
9.00-9.45 breakfast
9.45-10.30 teachings and instructions
10.30-12.00 hatha yoga
12.00-12.30 meditation
12.30-15.30 lunch and rest
15.30-18.00 meditation with breaks
18.00-18.30 individual practice
18.30.20.00 dinner break
20.00-21.30 Q and A, teachings and guided meditation
Cost
The current cost of the retreat is US$375 per person. This includes:
All the teachings of the retreat
Accommodation for 4 nights
All delicious vegetarian meals
Note:
It is the calling of our heart to share these precious teachings as we trust in the benefits they are bringing to many people. If you cannot afford the retreat fee and want to participate in the retreat, please contact us.
Location
The retreats are held on island Amantani, an island in the middle of the sacred Titikaka Lake. The energy of the lake and the peaceful atmosphere of the island are providing the perfect conditions for meditation.
We will be visiting some of the sacred sites on the island as part of the retreat.
How to Book
You can find more information, book, and contact us through our website. You can also connect with us through Facebook.
Testimonials
Nick, UK
In just 3 days on the beautiful, peaceful Island of Amantani I was able to reach a state of peace and deep meditation. I left feeling rejuvenated and inspired to continue this method of meditation. Thank You!
Leticia, Venezuela
The 3 Day Silent Retreat was so blissful for my heart. The space that I now hold within is so clear and calm, trustful and grateful.
Denise, USA
What a magical space of stillness and discovery – the pauses between the breath. A moment that leads to another world, other dimensions, into the depths of one's own heart. A feeling of coming home.