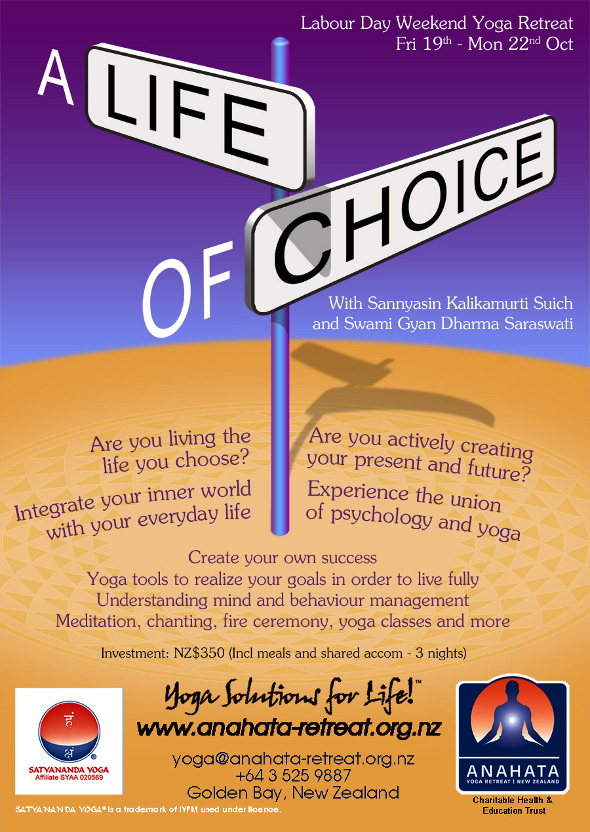 A Life of Choice, a Yoga Workshop with Sannyasin Kalikamurti Suich & Swami Gyan Dharma
Are you living the life you choose? Are you taking an active role in creating your own present and future?
Learn how to fine tune this internal world and integrate it into your everyday life. Gain insight into realising your goals to make choices that will enable you to live your life fully and with balance.
Creating your own success
Gain awareness as to your goals and aims in life
Understanding mind and behaviour management
 See how modern psychology and yoga work together
 Tools to bringing yoga into your daily life
 Meditation, chanting, fire ceremony, yoga classes and more
The weekend program, held during the auspicious time of Navaratri, will combine traditional teachings and practices of yoga, with modern understanding of why and how we behave. You will explore the theory, and gain skills and knowledge as to how to realise your Sankalpa (resolution) and to simultaneously add to the greater good.
For the last 20 years as Kalikamurti, she has lived as a Sannyasin and householder and her life's work has been to explore and share how to combine both successfully, and to dispel the illusions that block ourselves from reaching our potential.
In the last 10 years she has added to her knowledge base internal control psychology which functions as the modern language of yoga. Kalikamurti is an accredited counsellor with specialisations in mental health and chronic pain management, and is a faculty member of the William Glasser Institute and accredited trainer in Choice Theory and Reality Therapy.
Swami Gyan Dharma Saraswati is a direct disciple of Paramahamsa Satyananda and lived with him in India for over 12 years. He offers the benefit of his many years of personal sadhana training in a very down to earth and practical way.
He specializes in mantra, kirtan (chanting) and harmonium, which leaves one feeling deeply inspired.
Investment: NZ$350 incl meals and shared accommodation – 3 nights
Bookings and Info:
E-mail  or (03) 525-9887