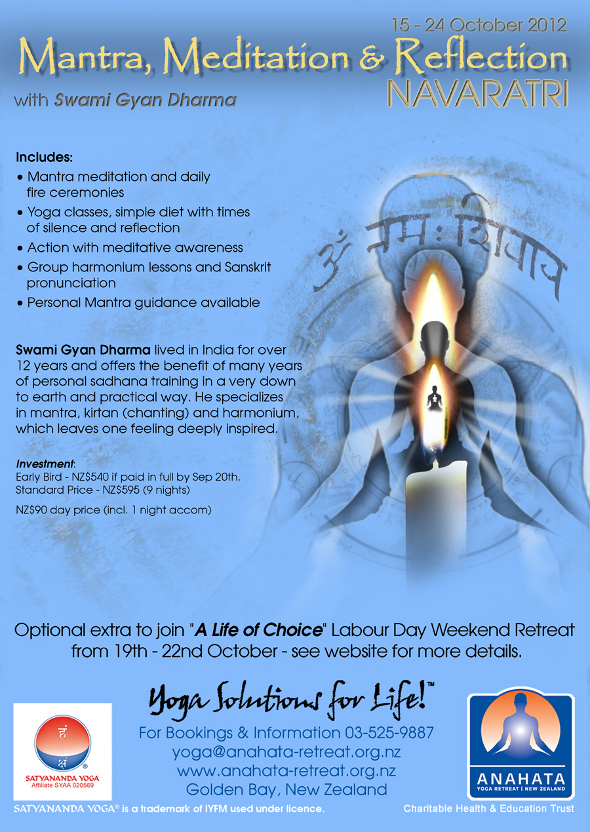 Mantra, Meditation & Reflection – Navaratri Sadhana Retreat, with Swami Gyan Dharma
Expand your consciousness with an intensive period of mantra chanting (specific sound waves), intended to purify, energise and awaken.
This powerful 9 day period of astrological significance, is deemed most auspicious to do any spiritual practice (sadhana). It is said an hour of sadhana during this time is equal to 100 hours of sadhana any other time of the year. This retreat follows a slightly lighter schedule than the Navaratri retreat in April.
• Ancient fire ceremonies (havan) daily
• Mantra meditation
• Yoga classes
• Simple, nourishing diet
• Periods of silence for reflection
• Karma yoga (action with meditative awareness)
"Mantra is a combination or assembly of powerful sound waves. As such the intellectual understanding of the mantra is not at all necessary. It is not the meaning (…), but the sound waves created by the mantra which influence the cosmos, internally and externally."  (Swami Satyananda, Sankirtan 1993)
Sound is energy and has an explosive force like dynamite. As a Mantra is repeated it begins to explode the knots held in the unconscious mind, making space for energy to move and expand. As the mantras begin sprouting seeds of transformation, they uproot deep-seated patterns and beliefs that no longer serve you.
Mantra meditation influences your overall well-being, touching on emotional, mental and physical health. Open your heart and discover a deeper connection with your highest self. Experience techniques for healing, relaxation and integration of human experience.
Anahata Yoga Retreat provides a supportive yogic environment, allowing you the opportunity to dive deeper inside and explore all aspects of your Self. Discover a sacred space within and open to personal transformation and expansion.
Swami Gyan Dharma is a direct disciple of Paramahamsa Satyananda and lived with him in India for over 12 years. He offers the benefit of his many years of personal sadhana training in a very down to earth and practical way.
He specializes in mantra, kirtan (chanting) and harmonium, which leaves one feeling deeply inspired.
Investment:
Early Bird – NZ$540 if paid in full by Sep 20th.
Standard Price – NZ$595
(9 nights) incl. shared accommodation, all meals & programmes
20% non-refundable deposit to secure your place
Registration at 2pm.
Day Price – NZ$90 (incl. 1 night accom)
Optional extra $50 per night to stay the evenings of the 14th and/or 24th
Private Sessions available by appointment:
A unique opportunity to receive practices and insights to suit your personality, body type, health challenges and get direction or a personal program, therapeutic applications and health consultations according to your needs.
30min NZ$55
60min NZ$95
90min NZ$120
A Life of Choice – Labour Day Weekend Retreat
This (3 night) retreat is running concurrently with Navaratri over Labour Day weekend. You are welcome to join in and take part in this retreat as well at an additional cost of $150 extra for the weekend. For more info on this retreat click here.
For Bookings & Information:
Contact Anahata on E-mail or call +64 03 525-9887