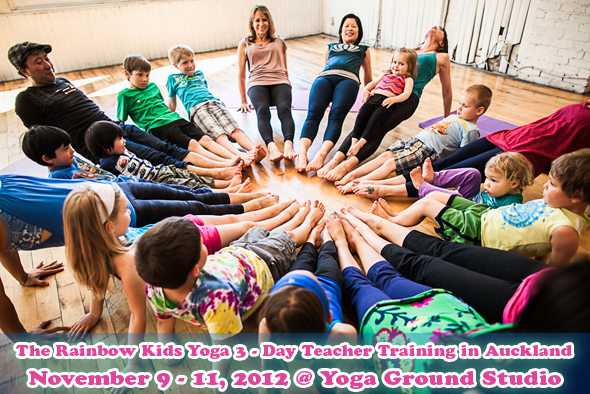 The 3-day Rainbow Kids Yoga Teacher Training will take place on November 9 – 11, 2012 at Auckland's Yoga Ground Studio.
It is a comprehensive, intensive and practical certification course. Be prepared to practice and learn to teach yoga while laughing, dancing, playing and singing!
This training is highly recommended for yoga teachers, school / kindergarten teachers and educators, professionals who work with children in different settings and for parents, who are looking for a healthy, non-competitive-movement-based activity for their children and as a family.
Some of the topics we will learn are: How to make Yoga FUN for all age groups, Over 350 Yoga poses for kids, About a million creative Yoga games, Breathing and Meditation exercises and games suitable for kids, Class management tips and ideas for bringing everyone together, Yoga for Children with Special Needs… And so much more!
Our graduates teach everywhere using our diploma: schools, kindergartens, day care centers, community centers, Yoga studios, gyms, Yoga birthday parties and privately. Rainbow Kids Yoga is a Registered Yoga School with the UK, US and AUS Yoga Alliances.
Our trainings are packed full with practical tools for you to create infinite number of fun and engaging yoga classes that are sure to capture the children and the parent's hearts.
We squeeze a lot into this intense training – you are guaranteed to come out with an abundance of knowledge and creative ideas!
For details on registration and payment please visit Rainbow Kids.