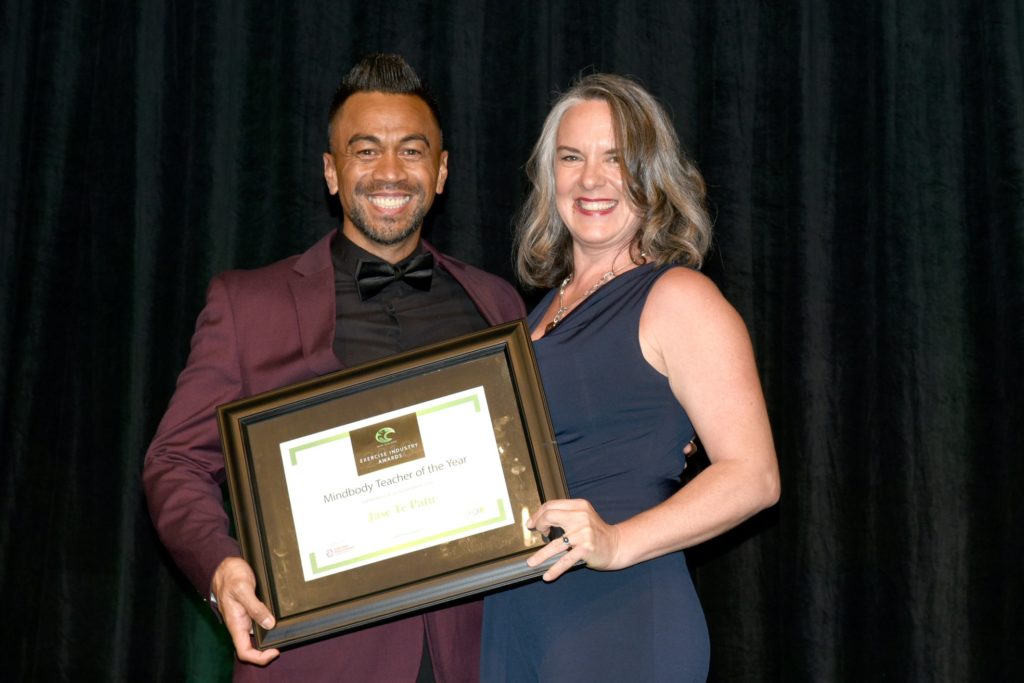 Hey New Zealand – it's time to nominate your favourite yoga teacher for ExerciseNZ's Mind Body Award!
True Dedication
You may not realise it but hundreds of hours go into making an amazing yoga teacher. It takes true dedication and your teacher will have studied and practiced to get to a point where he or she can hold the space for your transformation within that short amount of time we call a yoga class.
Like in any professional field, yoga teachers who have put in the hours and live by their teachings stand out in our community. Now is your chance to honour your favourite yoga teachers for the hard work, long hours and dedication they have given to the role.
Yoga teachers teach for the love of it! The Mind Body Award is a way to give them some love back.
How to Nominate your Favourite Yoga Teacher
Head on over to the Exercise Industry Awards Website: exerciseindustryawards.co.nz and nominate that special teacher for the national Mind Body Award. Teachers can also enter themselves for the Awards here.
Select Nominate from the top menu, fill out the form and click the Submit Nomination button at the bottom of the page. Be sure to select Group Exercise: Mind Body in response to "Which Category are you nominating them for?"
Proud Sponsor
Courage My Love is the 2019 sponsor for the Mind Body Award category. The winners of this award are those who have made an impact on others through teaching exercise which brings both the mind and body together. Many yoga teachers do exactly that!
Exercise NZ is a non-profit organisation that proactively supports a sustainable exercise and fitness industry in New Zealand by growing participation in structured exercise through advocacy, information and industry standards. ExerciseNZ now also specifically support yoga teachers in New Zealand and they host the annual Hauora Yoga Conference and Hauora Yoga Roadshow.
As part of their mission, ExerciseNZ created the Exercise Industry Awards which have been running since 2005 and are designed to recognise those making a contribution to the health and wellness of New Zealanders through exercise and fitness.
Last Year's Winner
This is Courage My Love's fifth year sponsoring the Mind Body award category and we're thrilled to be recognizing the great work of yoga teachers. Jase Te Patu of M3 Mindfulness for Children and Awhi Yoga won last year – out of all the entrants he exemplified the ideal Mind Body teacher.
Here's what the judges had to say about Jase:
"Jase embodies Maori principles and values into his yoga teaching, offering his students a rich philosophical tapestry to practice by. He is a leader in his ability to teach from the heart and guide a wide range of people deeply into mind-body connection."
And in our opinion, that's what yoga is really about: connecting the mind and body in a way that makes you feel amazing.
Feeling Awesome after Yoga
Have you ever felt completely awesome on all levels after finishing a yoga class?
Chances are you have. That's why yoga is so popular – it works!
As yoga students, we get to attend a class (sometimes entering it in quite a stressed-out state) and be completely guided by our yoga teacher. We breathe deep and trust our teacher to guide us through a mind and body experience. A good yoga teacher creates a class which can help us quench our deep thirst for 'me time'. Yoga class becomes a timeout for ourselves and a much-needed break from our daily routines.