by Kara-Leah Grant
Meet Nikki Ralston, Kiwi Yoga teacher, founder of The Ralston Method, and owner of Urban Ashram in Auckland.
She might be lesser-known than many of the big-name yoga teachers I've interviewed for Wanderlust NZ & Australia 2015, but she's the first teacher I've interviewed who's classes are already filling up.
At Great Lake Taupo, two of Nikki's classes are already full, and numbers are filling up fast for The Wanderlust Spectacular, which is the opening show on Thursday night and includes Cameron Shayne, Acro-yogas Claudine & Honza, plus musicians, artists and DJs. It will be spectacular for sure!
It's no surprise that some of Nikki's classes are booked out though – she combines technical proficiency with an open-hearted ease and generous spirit in her teaching.
Plus Nikki is the only New Zealand yoga teacher I've come across with a consistent Instagram profile.
Nikki's Dad was a international running and athletics coach so she reckons coaching and wellness is in the blood. She opened Urban Ashram not long after her Dad lost his battle with cancer, spurred on by his passing to seize the day and live out her dreams. She credits her yoga practice and the tool she's learned over the decade-plus of practice with helping her through one of the most difficult times in her life.
And, to top it all off, Nikki is also a single mother, balancing motherhood with teaching and wellness coaching. Her big goal is to help get yoga and mindfulness training in all schools throughout New Zealand – a goal she says is long-term, but she's putting it out there.
You can see Nikki's schedule at Great Lake Taupo 2015 here.
You can buy your tickets for Wanderlust NZ here.
Editor's Note: Get on it! Wanderlust is an extraordinary gathering of some of the world's best yoga teachers all in one place for four incredible fun-filled days. Normally you would pay thousands and travel days to attend classes with teachers like Tiffany Cruikshank, Suzanne Sterling, Duncan Peak, Eion Finn, Cameron Shayne and Ana Forrest. It's an exceptional opportunity.
Tune in to hear K-L and Nikki's conversation on:
On how Nikki got into Yoga:
"I came to Yoga to stretch out my very, very tight runner's body. Even from my first class I loved it and right then I thought'This might be something I want to teach one day."
On becoming a Yoga teacher:

"I dabbled in Yoga in my early twenties. I was a little distracted. I was busy partying and living life as you do. I knew to become a teacher I wanted to walk the walk and really be living my Yoga."
"I did Iynegar… It's more like an apprenticeship. I was able to fit it in with my life."
On how her teaching style has evolved:
"It came from the depth of knowledge I had working as a massage therapist… I love the alignment in Iyengar and the precision, and I wanted to grow and evolve from there and incorporate a lot more freedom into my teaching."
On The Ralston Method
"It's a blend of all the knowledge I've gained up this point, and it's still evolving as I grow and evolve… My teaching is about fulfilling your own possibility."
"I love the analogy that within each of us lies the same potential within an acorn, like some mighty oak tree."
On her Wanderlust Classes:
"I'm really happy I've got such a wide range of classes… Inversions, taking flight, and some very playful ones, like a roller disco…"
"It's overwhelming how many like-minded people you connect with and when you've all been practicing yoga all day there's this amazing vibe it creates… You look at people in the eye and you find more of your tribe."
On her first Wanderlust experience:
"What happens at Wanderlust is indescribable and definitely different for everyone… But make sure that you take spaces in your day because sometimes, just like in your yoga practice, what happens in those spaces is where the magic happens."
Nikki Ralston on The Ralston Method & Wanderlust 2015
About Nikki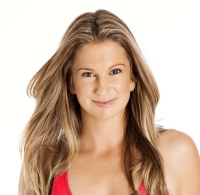 Nikki Ralston is a natural teacher who has been working with the human body for over 15 years, her passion for yoga and wellbeing shines through and is infectious to others.
Nikki has devised her own 'Ralston Method' which blends together the best elements of hatha, vinyasa, precision alignment and mindfulness teachings. Her classes are strong yet grounded, guiding her students to gain a deeper understanding of themselves, giving skilled yet simple cues from her deep understanding of the human body and subtle energies, creates a transformative experience, empowering the student to become their own guru. Balanced by her delightful sense of humour that encourages students to reclaim the joy within their practice and life.