by Kara-Leah Grant
It's not often that international teachers come down to New Zealand to lead Teacher Trainings over three consecutive weeks in one location, giving New Zealand based teacher trainees the opportunity to study at an international level without leaving the country.
But thanks to some serious serendipity, that's exactly what's happening At Nadi Wellness in Queenstown from February 6th to March 3rd, 2017.
Meet Nianna Bray, international yoga teacher and Tantric yogini.
Nianna has studied with many talented teachers, including Shiva Rea, Eric Schiffmann, Denise Kaufman, and Mark Whitwell, and now teaches yoga classes all over the world.
An invite to create the yoga programme for luxury wellness retreat Aro Ha from her friend Damian Chapparo led Nianna Bray to a meeting with Sandi, owner of Nadi Wellness in Queenstown, New Zealand.
Sandi and Nianna got talking about all things yoga, as yoga teachers do, and Nianna asked Sandi why, with her teaching experience and long-standing Queenstown yoga studio, she hadn't yet established a yoga teacher training.
Sandi pondered it, and asked Nianna if she would be interested in collaborating with her on such a venture.
It was perfect timing for both women. Nianna is a long-established international yoga teacher who has been assisting on other notable teacher's trainings for many years – like Shiva Rea's teacher trainings.
Sandi has been teaching for many years, and running Nadi Wellness in Queenstown for several years. She was ready for the next challenge.
That serendipity created both the energy and the ease required to create a 200hr Vinyasa Teacher Training ready for early 2015, which was great timing for Nianna, who was also teaching at Wanderlust New Zealand from January 29 – February 1.
If you're interested in finding out more about the 2017 Nadi Yoga Teacher Training in Queenstown, click here for full details or click here to register. 
The Yoga Lunchbox spoke to Nianna about Teaching the Teachers & Wanderlust – here's what she had to say (full video interview below):
On how Yoga found her:
"Yoga really found me when I was 18…I just fell in love. I was so impressed you could have one kind of experience that involved physical, emotional, mental…. and also spiritual."

"It saved my life… It was a place that I could go and get myself straight..and get those boys off my mind."
On starting out as a yoga teacher:
"Teaching is just another level of being a student."
On the Nadi Yoga 200 hour teacher training in Queenstown:
"This is my first full 200 hour teacher training and that's why I'm so excited about it.. because now I can really give from my own wealth of knowledge and experience after all these years."

"Our intention is to have one of the best trainings in the region."

"We want to paint a larger picture of the context of where yoga is coming from. Yoga is not only asana."
On being a tantric yogini:
"It's not a dogma. It's not a philosophy.. It's a direct path."

"Tantra says you are already what you seek."
On teaching teachers:
"What we have to learn as teachers to be effective in the modern world is to teach to larger audience without losing people."

"It is a big responsibility.. I think that's why I've taken so long to start teaching yoga… It's been a process of me refining my voice.. and going around the world and teaching yoga to distill 'What is essential? What is yoga?'"
On what yoga teacher trainees need to hear:
"A dose of reality. Don't quit your day job. But learn and become. Embody the wisdom that you want to share. Embody the asanas and the practice from a place of desiring to know what yoga is for ones self."
On why the Nadi Yoga teacher training is limited to 20 students:
"When you have smaller groups there's nowhere to hide. I will find you. I will see you. You can't hide."
On her Wanderlust workshop 'Power and Pleasure for women: Embodying the Wild Feminine':
"We need a safe space for women where we can be together and tap into our sensual power in a way that feels non-threatening, and in a way that feels very natural."
 Nianna Bray on Teaching the Teachers & Being at Wanderlust
Click here for more information on the 2017 Nadi Yoga 200hr Vinyasa Teacher Training in Queenstown or click here to register.
About Nianna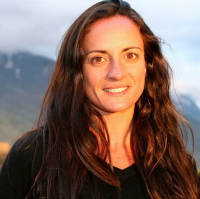 Nianna is a beautifully fierce and compassionate international yoga and tantra teacher and travel guide who inspires her student/friends with both her in-depth knowledge of yoga traditions and culture and her openhearted liberated teaching and travel style. Her passion and dedication inspires and illuminates.
Her diverse and comprehensive study with master teachers of different methods of yoga, dance and healing arts in the US and India has given birth to her thoughtful translation and dissemination of ancient wisdom in modern times. She is eternally grateful for the mentor-ship and tutelage of her beloved teachers who continue to light her path with their brilliance and love.