by Kara-Leah Grant
Meet Nianna Bray, international yoga teacher and tantric yogini. Nianna has studied with many talented teachers, including Shiva Rea, and Mark Whitwell, and now teaches yoga trainings and retreats all over the world.
And if you've been reading The Yoga Lunchbox for awhile, you might have met Nianna last year, when we first interviewed her about teaching at Wanderlust and running her first 200hr Teacher training. 
Now Nianna is returning to New Zealand in early 2016 to run another a 200 hour Vinyasa Flow Yoga Teacher Training plus and a 100 hour Women's Wisdom Training in Queenstown at Yoga Nadi.
This time, we decided to speak to Nianna about the Divine Feminine and how it informs her yoga practice and teaching.
Nianna Bray on the Rise of Divine Feminine &
The Power of Shakti in Yoga
On Embodying the Divine Feminine through Shakti:
"Shakti is the divine feminine power, meaning that which is manifest. It is the earth, it is the sky, it is the stars, it is the trees, it is you, it is I, it is man, it is woman. It is everything alive and manifest."

"For women it's so important that we really truly understand that we are the goddess incarnate… We are Shakti. We are the divine feminine."
On her Yoga Journey:
"The yoga practice became a very ascetic kind of thing.. where I felt like I needed to push the world away… And when the concept of feminine goddess worship came into my life it really switched everything around, and I started to have a healthier relationship with food, and sex, and my faith, and mother earth, and my own purpose, and my own pleasure, and my own reason for being here."
On the State of the Yoga World:
"We've been practicing in a masculine way. We've been living in a masculine world, and we're starting to see that we've been doing our yoga practice and our spiritual seeking from a masculine perspective."
On how she brings Shakti to her Teacher Trainings:
"The way I approach the sequencing is very intuitive and creative, so it's stepping away from things like Ashatanga or Bikram… we're changing always with the circles of the moon, the circles of the season, the circles of our cycle, the circles of life… It's a practice that welcomes change."

"The approach for me is not to beat with force, not to control the body, but to really seduce Shakti, this divine energy within us, to rise and dance with the divine energy above us."
On her Women's Wisdom Certification:
"Women are hungry for this. This is something that is being called out."

"To be a good teacher is to give all of your secrets away. The idea is that after doing this course you can go out there and teach other women these valuable practices, deep internal practices: pelvic floor work, core work, getting deep into the hips, refining our connection to our yonis, our sexual organs, our own voice."

"A safe sacred space amongst women where women can be free to be sexy, and sensual, and gorgeous, maybe even funny, silly, ugly. However women are showing up."

"If you feel that calling, find a women's circle, get with your girlfriends, find a way to connect into this feminine movement because it's happening… together we rise."
About Nianna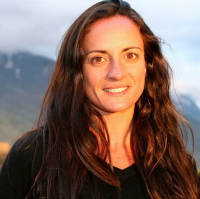 Nianna is a beautifully fierce and compassionate international yoga and tantra teacher and travel guide who inspires her student/friends with both her in-depth knowledge of yoga traditions and culture and her openhearted liberated teaching and travel style. Her passion and dedication inspires and illuminates.
Her diverse and comprehensive study with master teachers of different methods of yoga, dance and healing arts in the US and India has given birth to her thoughtful translation and dissemination of ancient wisdom in modern times. She is eternally grateful for the mentor-ship and tutelage of her beloved teachers who continue to light her path with their brilliance and love.
Click here for information on her 200 hour Vinyasa Flow Yoga Teacher Training or here for infromation on her 100 hour Women's Wisdom Training.