by Kara-Leah Grant
I've known Melissa Billington since 2008 and been close friends with her since 2010. We've had -literally – hundreds of discussions about the nature of yoga, what it means to teach and what it means to practice. Melissa has also been a regular writer on The Yoga Lunchbox. She used to teach yoga on The Morning Show, back when it was filmed in Wellington.
And a couple of years ago wrote, produced and acted in a one-woman show called PocaHAUNTus: Shapeshifting history into HERstory. The play explored the real story of Melissa's ancestor Pocahontus. (Yes, she was a real woman, not just a Disney character. And yes, Melissa is descended from Pocahontus, 13 generations back.)
Formerly the owner of Wellington yoga studio The Powa Centre, Melissa has spent the last two years taking her decades plus of yoga experience and creating a multi-layered, systematic and thorough online yoga programme called MYOGA Freedom School. She jokingly refers to it as her PhD and a way to capture much of what she has learned through her practice, studies and teachings.
Melissa brings a deep intelligence to the way she teaches and practices, paying attention to the small aspects of embodiment that spiral out into larger disturbances within the system.
MYOGA Freedom School is based on a cyclical seven-part practice series that is based on the seasons and a journey through the chakras. The same sequence is done for six weeks, or 42 days, before you move on to the next sequence. It takes one year to do a loop, and then you're back at the beginning again. Only you have changed and grown, so your experience of the practice the second time around is different.
Melissa describes her online yoga school as the bridge between group classes and self-practice. It's the training wheels that allows students to start practicing at home, but with the support of a teacher and a structure that removes the obstacles of "what to do".
Melissa and I sat down to talk about the nature of yoga practice, why it's so challenging to show up to our mat even after years of home practice, the difference between attending group classes and showing up for yourself in home practice and how online practices can support your self-practice.
Melissa Billington on Why It's So Challenging to Show up for Self-Practice
About Melissa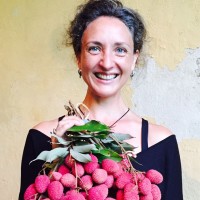 Melissa was introduced to yoga & meditation at age 6. She has been teaching for 15 years & systematized her teachings in 2008 as MYOGA, which stands for Manifest Your Own Greatness thru Awareness & which was coined with the intention that each person must "own" their own practice.
MYOGA's guiding principle is "freedom to unfold." Each practice has been chosen, from a wide body of practices, for its efficient & effective ability to cultivate both union and liberation. MYOGA Basics recognize the value of caring for our foundations, while MYOGA Seasons honor the powers & energies within us–our chakras–as well as those without us–the seasons of our natural environment.
Additionally, Melissa's own journey with hearing loss has led her to place great emphasis on the healing power of vibration & learning to own & speak Truth, found in MYOGA Sounds.