by Kara-Leah Grant
Yin Yoga has been around for a couple of decades now. Actually, that's not quite true. Yin is not so much a style of yoga as a way of practicing yoga. It's likely that yoga has been practiced in a yin manner for thousands of years. But it's only come to prominence in the West in the last two decades, largely (but not only) due to the influence of Paul Grilley.
Paul's passion for and spread of Yin Yoga comes from combining three main threads of inquiry – an in-depth study of anatomy which focuses on skeletal variation and understanding how postures look and feel different in each individual's body, Daoist Yoga, and the modern meridian theory.
Paul learned these lines of inquiry mainly from three different teachers, respectively, Dr. Gary Parker, Paul Zink and Dr. Hiroshi Motoyama.
However it's only in the last few years that Yin has started to penetrate the yoga community here in New Zealand. It's more and more common to see yin classes offered at studios, and there's better awareness in the yoga community about what yin yoga is and why it's important.
This has created a need for more yin yoga teacher training, and until now, the only way to receive that training was to head overseas to do study.
Now, Markus Henning Giess and Karin Sang, who have studied and trained extensively with Paul and Suzee Grilley, have moved their yoga business, Yin Therapy, to New Zealand. That means they are offering their workshops and trainings here. (They also offer them in Australia and Europe).
This gives New Zealanders a chance to learn more about Yin Yoga, and study towards a 200HR Yin Yoga Teacher Training if they so desire.
I spoke to Markus and Karin to find out more about Yin and what it takes to teach a Yin Yoga class. I was under the impression that because Yin involves long slow holds, it's much easier to teach and anybody can do it as long as you know the basic form of the posture.
Boy was I wrong!
Watch this Skype Video Interview and hear Markus, Karin & I talk about:
On what Yin Yoga is all about:
"You go into a yoga pose for three to five minutes, long held stretches and, here comes the trick, without any muscle tension."
"It's about surrendering in the pose. It's not about working the pose. The pose works for you."
"It's function over aesthetics.. We're getting away from how it's supposed to look, according to the yoga magazines, and to how it's supposed to feel. Because that's why we're doing it."
On the growing popularity of Yin Yoga:
"Our lives,ever since the age of the computer, are getting faster, faster, faster…And we're seeing more stressed out people… It feels like an organic evolution that Yin Yoga is coming more into the modern yoga scene. We need that balance."
On the Yin Yoga NZ Teacher Training:
"We go through the nine level of awareness, from the most dense material within your body, the bone, muscle, and fascia, up to chi, emotion, thought, the very subtle energies within your body."
On Fascia:
"Fascia is almost everything in our body… Most people know the term connective tissue… It holds everything together. It's the glue… It's a three dimensional network within our body which keeps us together."
On the joys of teaching Yin Yoga:
"I adore teaching Yin… You have the opportunity to really help people individually… You have the opportunity to go round the class and look at the individual body before you… and assist them to find their very unique, individual pose."
On the anatomy focus of the Yin Yoga Teacher Training:
"It can be an overload for some people. But it's always exciting.. You get surprised by how different we are… We make them listen.. we make them see it, then we actually make them feel it within their bodies. Then we test it."
"It is so practical… You go on a self discovery journey.. You're like 'Oh my god… That's why I've been torturing myself trying to get my leg round the back of my head and it's never worked.'"
On why Yin Yoga uses Chinese terminology instead of Sanskrit terminology:
"Yin Yoga started in Taoist yoga… The tradition comes from the Chinese background."
On who can attend the Yin Yoga NZ Teacher Training:
"We've had a wide range.. It's definitely for experienced yoga teachers, and aspiring ones, but also for people who just want to have a deeper understanding for themselves and their body… And then we've also had physiotherapists, … animal therapists, naturopaths, and masseurs."
Markus Henning Giess & Karin Sang on Yin Yoga Teacher Training in NZ
About Markus & Karin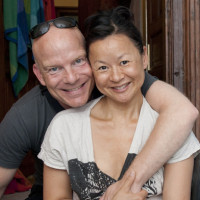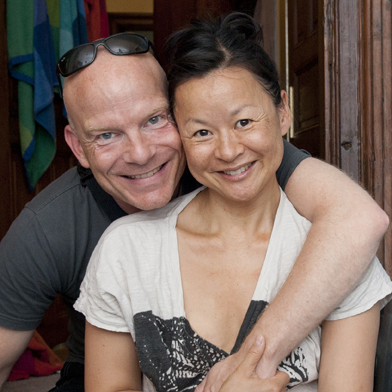 Markus and Karin met while performing in the musical 'Cats' in Berlin, Germany.. They discovered yoga, and eventually attended a Bryan Kest 350HR Power Yoga Teacher Training. However they really fell in love with Yin Yoga. Both of them have done several trainings with Paul and Suzee Grilley and Markus assisted on Paul's most recent Mexico training. 
Markus has over 10,000 hours of classes / workshops / trainings, from dance to yoga, massage to meditation, yoga anatomy to energy work under his belt, makinghim a true master of movement and body. He is considered one of the most prominent Yin Yoga teachers in Germany, Austria and Switzerland offering Yin Yoga & Anatomy teacher training and workshops as well as Thai Massage training.
Karin is an experienced dance and yoga teacher whose teachings focus on discovering the meditative aspect of yoga through melding the breath with the asanas, with a strong emphasis on respecting the unique anatomical, emotional and physical states of the student.  Together this couple bring a wealth of knowledge and presence to their workshops and trainings.