by Kara-Leah Grant
Every year, for two weeks, Mark Whitwell retreats to Fiji, to the island of Taveuni. He invites students and potential teachers to join him, for as long as they can. They can choose to just retreat, or they can clock up teacher training hours.
Mark chose this particular location because it's accessible to the entire Pacific Rim, plus there is a Hindi influence with the local Indian population. (Originally brought over as indentured labour in the late 1800s).
During the Fiji retreat Mark will be teaching the heart of yoga as he was taught by Desikachar and Krishnamacharya. Over the two weeks, Mark will cover:
The practice of Asana, including appropriate inversions, twists, forward bends, designed specifically for you and your students
Asana, Pranayama and Meditation as a seamless process
Krishnamacharya's Five Principles of Practice
Exploration of Bandhas in Asana and Pranayama
Understanding of Vinyasa Krama, the art of appropriate sequencing
The essential principle of Strength/Receiving in Yoga and Life
The practice and process of nurturing, regeneration and abundance as a constant
I spoke to Mark about his retreat, who it's suitable for and what people can expect to experience. Along the way, he gave me a beautiful description of the Bandhas, which I'd never heard before.
Mark Whitwell on his Annual Fiji Retreat
On Krishnamacharya's Five Principles of Practice:
"When you add them in to the Yoga that somebody is already doing it empowers that practice in an extraordinary way. It adds infinite value to your practice and furthermore it makes it entirely your own."

"These principles can be used in anybody's system, whether it's Iyengar, or Iyengar derivatives, or Bikram, or Ashtanga Vinyasa.."

"For some curious reason Krishnamacharya, even though he's well known as being the teacher of Iyengar, what he actually taught has somehow slipped the net."
On the Heart of Yoga teaching style:
"We have general classes that cover technology and theory of practice, and philosophy, and then I see people on a one to one basis and there's lots of opportunity for that."

"The teacher, the teaching, and the sangha are the three agencies of transmission. It's a very enriching time to be with other people."
On the Bandhas:
"Asana, or postures, creates Bandhas. The very action of doing a posture creates this phenomena called Bandha in the body."

"A Bandha is the intelligent cooperation of muscle groups."

"Asana properly done includes breath and bandha as the central feature of the asana… Asana is a profound practice. It's easily done. Anyone can do it."
On heart-led Yoga:
"The mind arises from the heart. The seat of mind is the heart. And of course the heart is the whole body, because the heart is where all opposites originate from and return to."
On becoming a Real Yoga Teacher:
"We allow people to become real teachers of Yoga… Yoga Teachers, with a capital Y and a capital T. Not Yoga instructors, not just teaching the patterns of anatomical structuring of the body that somebody else has come up with, but actual yoga practitioners teaching yoga to people in a way that's right for them."

"Krishnamacharya said "You teach yoga as you've experienced it yourself."
On the importance of regular practice:
"It's so important for people to actually learn a yoga practice that's right for them, and then actually do it, and be held to do it."
If you'd like to know more about this retreat with Mark, it runs from September 20 to October 3 in 2015, (it is an annual event). Click here to find out more. 
Click the ad below, which appeared in the
40th Anniversary Edition of Yoga Journal, to see a larger version.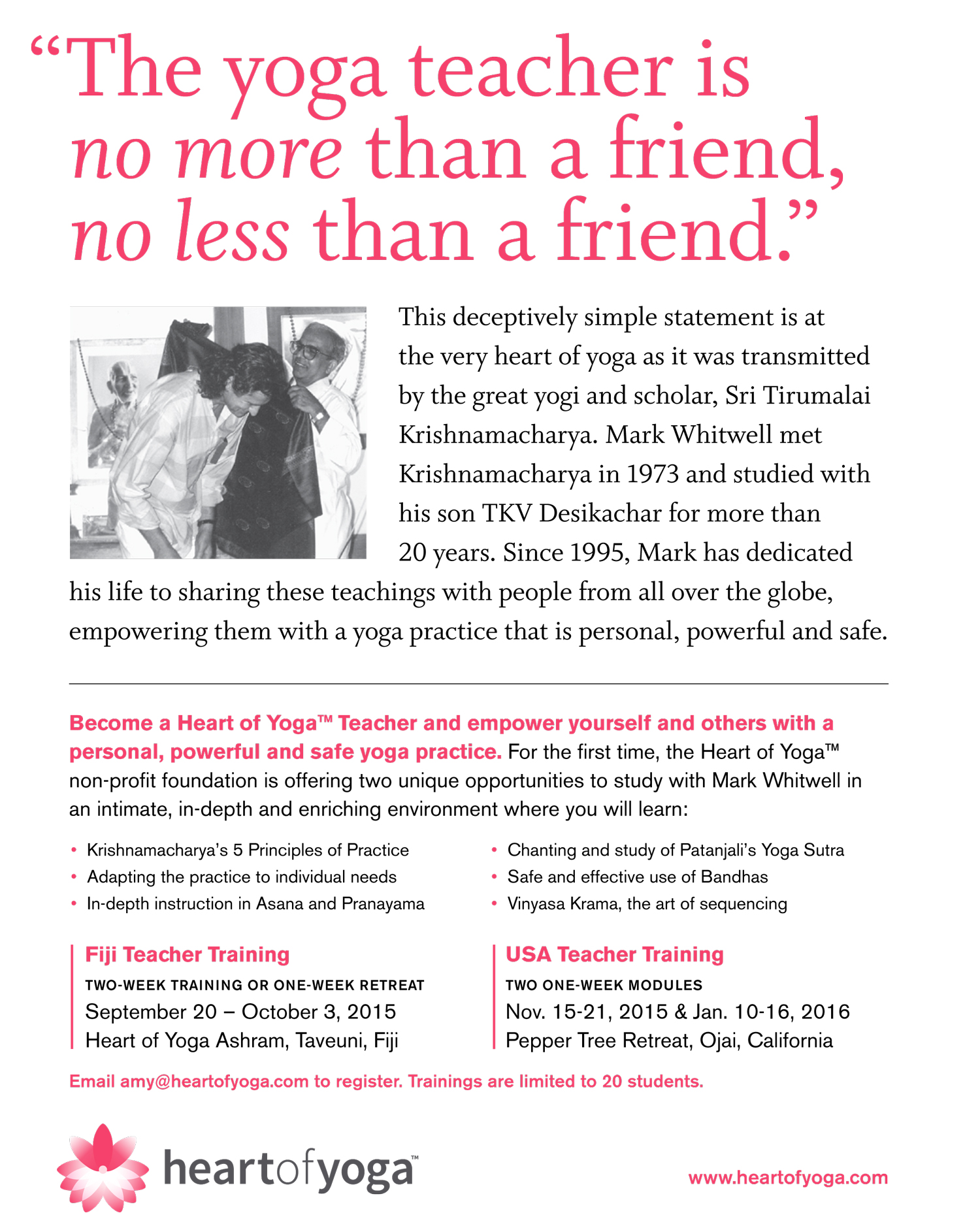 Bonus Mark Whitwell Video