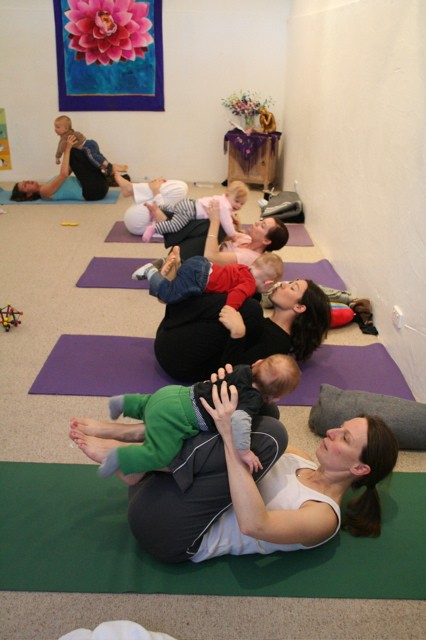 This 20 hour Postnatal and Mums & Bubs Weekend Intensive is fun, practical and packed with information to help launch you into the growing field of teaching yoga to new mothers.
This is the first time this popular teacher training module will be offered in New Zealand.
The Bliss Baby weekend intensive is designed to equip you with the specialised knowledge, confidence and a comprehensive 'tool kit' of appropriate asanas (postures) and practices for safely teaching women after birth as well as Mums and Bubs classes.
Course Location:
Yoga Sanctuary Parnell – 21 Bath Street, Parnell, 1052 Auckland
Course times:
Friday March 28: 2pm–7pm (5 hours)
Saturday March 29: 10.30am–6.30pm (8 hours)
Sunday March 30: 12pm–7pm (7 hours)
About Bliss Baby Yoga:
Bliss Baby Yoga is a Registered Prenatal Yoga School (RPYS) with Yoga Alliance and for the last ten years has established a reputation for offering high-quality, comprehensive courses in this specialised area of yoga for women's health, across Australia and Asia.
The Auckland Course Facilitator will be Jennifer Allen (RYT 500, E-RYT 200) who is an experienced yoga teacher, teacher trainer and devoted mum.
Course Cost:
The cost for this 20 hour weekend intensive is $500 (NZ Dollars) and includes a comprehensive course manual and DVD.
Course Prerequisites:
This course is suitable for yoga teachers and teacher trainees, and anyone who works in women's health related fields, or anyone interested in finding out more about the benefits and applications of yoga after pregnancy.
More info and course registration:
Visit Bliss Baby Yoga, email Bliss Baby Yoga, or phone 021-031-9503.
What previous course participants say:
Jennifer Allen creates an amazing, encouraging, open-learning environment through her calm, centered and logical sequences of subjects and personal experience as a teacher and Mum.
Helen Bloom
Loved it!  Loved the detail, flow, pace, group and partner work, theory and practice.
Kate, yoga teacher.
It was beautiful!  Detailed, engaging and an open space to share and learn.
Natasha Mateus, yoga teacher trainee.