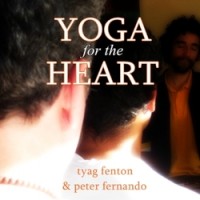 Yoga for the Heart CD review
Yoga for the Heart: what a great title! It sets the intention behind the CD; alive and joyfilled. Certainly a true reflection of every kirtan session I've gone to with Tyag, as his smile reaches into the lyrics, and playful nature pours out as music.
On a quiet Saturday, I sat down and listened to the CD, snatching some time to myself before my lunch time guest arrived. Tyag's low resonant voice filled my room.
Very quickly I could feel the flavour of the CD: it's a balance of creative flare and sacred pronunciations. It's a prayer and it's a bluesy jam session. It has the heart of child and teacher, blending into the call and response of kirtan.
It demanded to be sung along to. I couldn't stop myself.
By the third track – my favourite of all kirtans – I was pouring out my response along-side the live recording. What's even more special for me is that I was part of that live-recording crew and I remember the baby gurgling away in the background (she's there in the recording). I remember too, feeling filled with prana and lightness as I left that kirtan.
As I breathed in deep to take the next line of the kirtan in one breath, the smell of my cooking lunch downstairs reached my nostrils. Oh shit, I'd burnt the quinoa.
I hurried downstairs and lifted the charred pot off the element. It was pretty messy. But I was in kirtan land and Hari Om nama shivya poured from my lips.
I was the gospel choir back-up singers as I separated the smoked quinoa from the burnt stuff at the bottom. I sang as I scrubbed out the pot and wiped down the bench, only to knock the rest of the 'ok' quinoa on to the floor.
Damn!
I laughed and kept right on singing Shivya namaha, shiviya nama om
Nothing could make my day miserable. Not a ruined lunch, not a burnt pot, not a soon-expected lunch visitor, not a stack load of dirty dishes.
I love music of this nature; music to set my heart by. Yoga for the heart does just that; it infused my day with open heartedness, simplicity and joy.
I'd totally recommend downloading the Yoga for the Heart CD from off the reverbnation website. It's a beautiful collaborative effort with Peter Fernando fine-tuning the production of the tracks. The care and love that's gone into this CD will soak into your cells as you listen, sending out joy filled heart vibrations.
It's priceless really.
More so given that Tyag will be leaving the Wellington shores for Japan. He's been the heart and soul of one of Wellington's favourite Kirtan scenes, and I'm hugely thankful to be able to push play and bring him back into my lounge at top volume while signing along with as much gusto as ever.
Given my experience in listening to it however, my cautionary advice would be: do not operate heavy machinery while listening to this CD.
Enjoy!