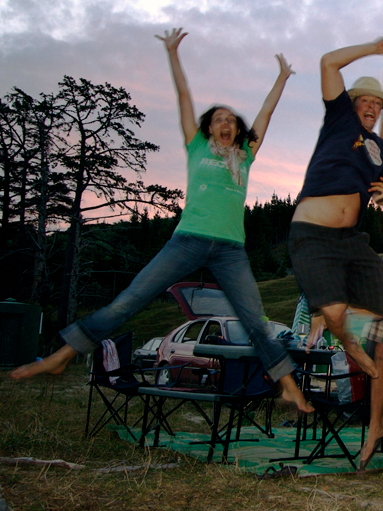 by guest author Marianne Elliot
Okay – as promised – here is everything you need to know to join me in starting 2010 with yoga.
I'll be starting my 30 day sadhana (Kara-Leah wrote more about sadhana, what they are and why we do them here) on 15 January because it is the first new moon of the year and that's generally a great time to start new things.
I'm inviting you to join me. Make your own commitment. My commitment is to practice a particular set of asana, pranayama and meditations every day for 30 days.
Personally, I'm going to be focusing on water and earth practices that bring more fluidity, ease and grounding, since I have a tendency towards fiery determination and airy 'creativity' – which some less charitable people call absentmindedness.
But you can choose your own practice – or work with me to develop one that suits your personal needs.
There are three different ways that you can join in.
Option 1: You can make the PranaFlow 30 day pledge
You pledge to attend all three PranaFlow classes for four weeks beginning Saturday 16 January. You also pledge to do a home practice on at least two other days of the week.
Seka and I will keep a special sign-in sheet for people completing the pledge and if you attend all twelve classes then you'll get free admission to a special two-hour yoga workshop that I will host at the end of the 30 days. If we are lucky Kara-Leah and her baby might even make an appearance!
If you'd like to take the PranaFlow pledge then you will be able to sign-up in person at class on Monday 11th, Thursday 14th or on Sunday 16th – the first class of the pledge.
NB: If you don't manage to make it to all the classes, you'll still be able to come along to the workshop for $30.
Option 2: Get a customised practice for your sadhana
If you'd like to focus your 30 day practice more specifically on the areas of your body or life that need a little more attention, healing or balance then I'm offering a special opportunity to have a one-on-one consultation with me to design a practice just for you.
This will cost $100 and will involve you filling out a questionnaire before we meet so that I can come to our session (which will be for one hour) with the outline of your practice already prepared.
When we meet I'll walk you through the practice, making any adjustments necessary, and leave you with a written/drawn worksheet for your 30-day practice.
If you choose this option then your participation in the workshop is also included.
Option 3: Make your own 30-day pledge and follow along here
Maybe you already practice at home, or you attend classes regularly at another studio or with another teacher. Great! Keep doing what you are doing.
But you can also join us for the 30-day sadhana. Make your own pledge! Decide how many classes you want to attend and how many days of home practice per week is realistic for you. Leave a comment on this post declaring what your pledge is, then follow along here.
Stay in touch
When I make any kind of new commitment in my practice I've learned to seek out sangha or 'good company' to support me in that commitment. With the company and encouragement of others I've discovered I can do much more than I can alone.
So, whichever option you choose, stay in touch. I'll be updating here every week with my own progress on the sadhana and asking you to let me know how you are going too, by leaving a comment.
If you have any questions, leave a comment here and I'll try to answer it.
Catch the next post in this series here: