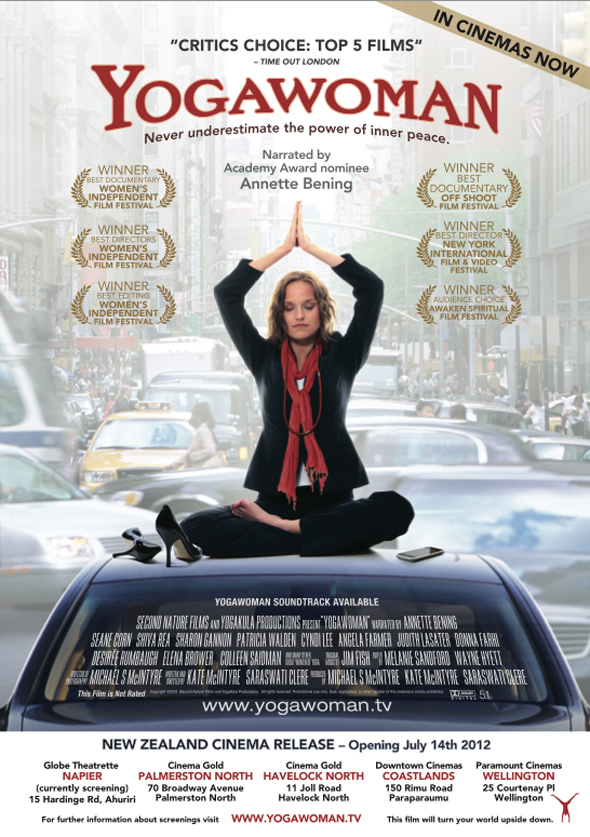 Yogawoman opens in cinemas:
After rave reviews in New York, London, Munich, New Zealand and Australia it is with great excitement to inform you that due to popular demand, screenings continue in New Zealand, and more open in Cinemas from Saturday 14th July 2012. Please visit the Yogawoman website for further information.
Yogawoman is narrated by Academy Award nominee Annette Bening, and directed by Kiwi Kate McIntyre Clere. (See interview under screening times).
Yogawoman Movie Trailer:
Yogawoman will screen at the following cinemas opening July 14, 2012.
Cinema Gold Palmerston North
70 Broadway Avenue Palmerston North
Cinema Gold Havelock North
11 Joll Road Havelock North
Downtown Cinemas Coastlands
150 Rimu Road Paraparaumu
Paramount Cinemas Wellington
25 Courtenay Pl Wellington
Yogawoman is currently screening at:
Globe Theatrette
15 Hardinge Rd Ahuriri Napier
Screening on Sun 8 Jul 3.30pm and onwards
Dome Cinema
Poverty Bay Club
38 Childers Road Gisbourne
Final screening on Sunday 15 July at 6PM
What people are saying about Yogawoman:
Yogawoman selected as 'CRITICS CHOICE TOP 5 OTHER FILMS',  TIME OUT London- 15/9/11
"The message of the new documentary Yogawoman is clear; Yoga isn't about getting toned, centered and flexible. It's about changing lives – and the world" ~ Regan McMahon, San Francisco Chronicle

"Yogawoman takes you on a fascinating journey into the world of yoga, dive into the daily life of millions of people around the world in search of the harmony between mind and body." ~ Rhein Main Magazine, Germany

"I left the theater feeling inspired, uplifted and ready to hit the mat! I highly recommend this film to regular practitioners as well as those who are simply interested in yoga." ~ Abby Cuffey, Woman's Day

"The very act of viewing Yogawoman is uplifting and inspiring. It is so motivating that I couldn't wait to get back to my mat. This film is also beautifully done with gorgeous lighting and music. A winner!!" ~ Dr. Christiane Northrup , Author
Director Kate McIntyre Clere interviewed on The Yoga Lunchbox: