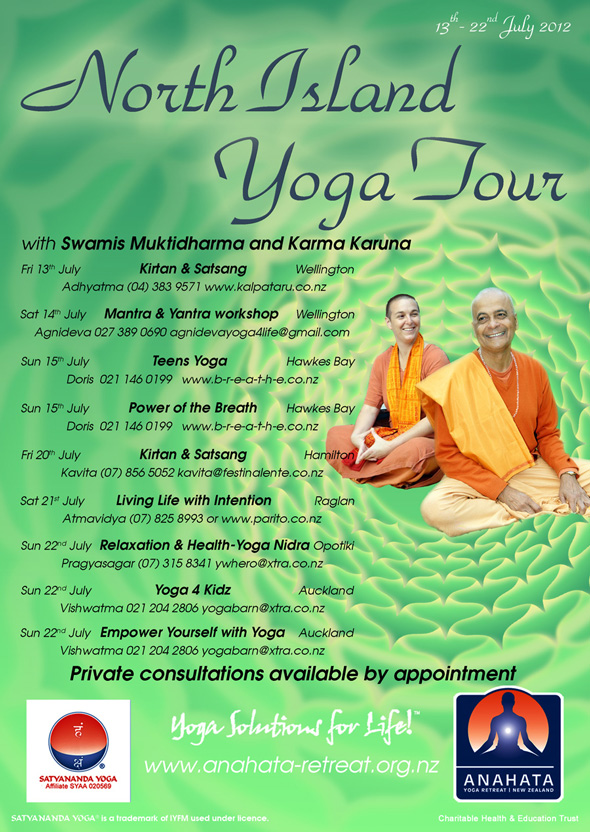 Join Swami Muktidharma, Swami Karma Karuna and Sundari on their Winter Tour of the North Island covering topics such as Science of Mantra & Yantra, Power of the Breath, Embracing the Inner Shakti and much more!
They will be touring round Wellington, Hawkes Bay, Hamilton, Raglan, Opotiki & Auckland from Friday the 13th til Sunday the 22nd of July.
Friday 13th July Mantra & Yantra – Satsang & Kirtan Wellington
Saturday 14th July The Science of Mantra & Yantra workshop Wellington
Sunday 15th July Teens Yoga workshop with Sunnie Hawkes Bay
Sunday 15th July Power of the Breath workshop Hawkes Bay
Friday 20th July Satsang & Kirtan Hamilton
Saturday 21st July Living Life with Intention Raglan
Sunday 22nd July Relaxation & Health-Yoga Nidra Opotiki
Sunday 22nd July Kidz Yoga Class with Sunnie Auckland
Sunday 22nd July Embracing the Inner Shakti – Yoga for Women Auckland
Sunday 22nd July Havan – Ancient Vedic Fire Ceremony Auckland
Swami Muktidharma the New Zealand Acharya (spiritual guide), an inspiring teacher and speaker shares a deeply experiential and practical understanding of yoga with more than 40 years of yoga practice.
Swami Karma Karuna is a founding member and director of Anahata Yoga Retreat, New Zealand, and a dedicated, intuitive yoga teacher with years of experience working with a wide range of people. By combining yogic lifestyle and Sannyasa tradition with family life, Swami Karma Karuna has a unique and practical approach, inspiring the integration of yogic principles into everyday activities.
Private Sessions available by appointment:
A unique opportunity to receive practices and insights to suit your personality, body type, health challenges and get direction or a personal program, therapeutic applications and health consultations according to your needs.
30min NZ$55
60min NZ$95
90min NZ$120
Swami Muktidharma & Swami Karma Karuna blend and apply practices according to individual needs in the treatments of mental, emotional, physical and spiritual imbalances. Yogic practices are powerful aids in the treatment of chronic fatigue, asthma and diabetes. Digestive, structural, blood pressure and heart problems can also be balanced.
FOR BOOKINGS & INFORMATION:
PH: +64 (3) 525 9887
ADDRESS: Takaka, Golden Bay, New Zealand
EMAIL: yoga@anahata-retreat.org.nz