by Kara-Leah Grant
I spoke to Jennifer Allen of Jayayoga last year in a video interview about her yoga teacher trainings. Jayayoga's mantra is 'safe, sustainable yoga' and is built on Jennifer's 15 years of  personal development, yoga teaching, and teacher training. Her focus is on understanding of the way our bodies respond to yoga, not just on a physical level, but on all levels – mentally, emotionally, energetically, and systematically.
The movement-based practice (asana) is a combination of gentle flow yoga, yin yoga, restorative yoga, and yoga therapy, all executed with meticulous attention to safety, energetic alignment, and the functional biomechanics of the body. Jennifer is adamant that Jayayoga stays accessible to everyone… if you can breathe, than you can do this yoga.
Rather than focus on teaching postures, her focus is on teaching students to understand how to apply yoga to their own lives and bodies, in a sustainable manner. And that means it's all about self-care and sustainability, yoga-style.
1. Jayayoga talks about sustainable yoga – what does that mean?
Jayayoga's brand mantra, 'Safe, Sustainable Yoga for Life' is a three-fold concept that encompasses the practices of yoga as a way of living on and off the mat.
Firstly, we see yoga as a functional compliment to the other aspects of our daily life, helping to restore balance on all levels. In this way, yoga is sustainable throughout the fluctuations and activities of everyday life.
Secondly, we see the practice as a life-long tool for self-care, nourishment, and healing, with no risk of injury. We emphasise the development and maintenance of a practice that is sustained over a lifetime, and a practice that serves the body in all stages of our life.
Lastly, with respect for yoga's lineage, we contribute to the preservation of yoga by honoring the integrity of movement, breath, and meditation as a holistic sensory experience, and one that is available to everyone.
I believe that ANYONE can do yoga, so the repertoire of practices is simple, intelligent, and accessible to all.
2. What do you mean by 'yoga complimenting our daily life'?
I let go many years ago of yoga as any sort of workout or form of exercise, and I can still remember that moment of shift. It was one of the most liberating moments of my life!
As soon as we are able to separate our yoga practice from our exercise regime, and from our long list of daily 'to-do's', we are liberated by the ability to arrive on our mat without preconceived expectations, and instead a willingness to arrive in our own organic experience, with devotion to ourselves in the most honest way.
We can ask ourselves what we need from the practice today, rather than what we think we should be doing in order to create a 'better version of ourselves.' Rather than taking from our bodies, we can simply open up to the receptivity of nourishment and healing.
3. How do we use yoga as a tool for life-long self-care?
Yoga practice works on us in three ways: self-maintenance, self-nourishment, and self-healing.
With regard to self-maintenance, I use my yoga practice like a trip to the mechanic for a car service. My practice lubricates my joints, releases blocked tension and energy, facilitates stability and strength, and opens up breath and mind space.
I practice yoga so I feel connected to myself for the other activities of my day, such as picking up my children or carrying heavy loads of groceries.
I practice so that I can think clearly and make mindful decisions with regard to my home, my children, and my business.
The self-nourishment side to my practice is like curling up on the couch with a warm cup of tea and my favourite book. I am a big fan of self-indulgence, and thankfully for my husband's sake, I don't have expensive tastes! My self-nourishment most often consists of 2 hours of luscious yin practice, music, candles, and a chai tea (or cheeky red wine) beside my mat. I call this 'Yoga for the Soul.'
Self-healing is for the moments when I need to call on my practice as a way of facilitating a platform for healing space, for my body or my mind.
I still carry around the residue of old dance injuries, as well as the continuing shift of my body as age and children have taken their toll. I access specific yoga practices to create safe pathways for my body to repair and rejuvenate in its most natural way.
There will always be a time and a place for the needs of western medicinal remedies, but I am also thankful to have yoga by my side as a complimentary alternative therapy.
4. How do we create a practice that nourishes the whole self?
We create a practice that nourishes the whole self by tuning in, intently, to our own individual needs from day to day, moment to moment.
There is no one way to practice yoga, and we are all different, and we will all receive different experiences from our practice.
My job as a yoga teacher is to put the ownership of your body's experience back in your hands by filling your toolbox with simple, accessible practices that you can pull out at anytime, anywhere, and for anything that you are experiencing in yourself or your world.
That way you literally have the nourishing benefits of yoga at your fingertips.
5. You've been offering teaching trainings since 2014, now you're writing a book. What's it about?
The book, 'Sustainable Yoga' brings these concepts together in an accessible practice guide for the yoga student as well as teacher.
It was inspired off of the back of the creation of the training syllabus, and the two manuals I wrote for my 200 and 300-Hour teacher training programs. There was a grieving period that took place when the manuals were finished… I felt like I had more to say! I wanted to reach beyond my trainee teachers, beyond my own students, and further out into the general public, and I knew that a book for me felt like the right way to spread my message.
I have an amazing team on the project with me, and it is shaping up to be an absolutely beautiful depiction of Sustainable Yoga in text and visually. I cannot wait to share it! Projected release date mid-2017, hopefully then I can come back to you again Kara-Leah to chat about the book!
Oh – and our next 200-Hour Teacher Training Course begins September 30, 2016. Hope to see you on the mat!
About Jennifer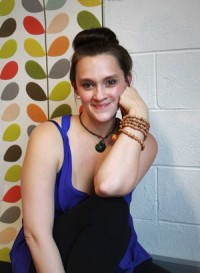 Jennifer has been expressing herself through body movement for as long as she can remember. Hailing all the way from the USA, her journey began as a professional dancer and musical theater performer. Yoga and Pilates became the channels through which she maintained her physical and emotional wellbeing throughout an intense performing career in New York, so therefore it was a seamless transition into teaching.
Jennifer teaches a variety of classes and one-on-one sessions in Vinyasa Flow, Yin Yoga, Pre and Postnatal Yoga, Yoga Therapy and Pilates on the mat and reformer throughout Auckland, as addition to hosting workshops and teacher trainings locally and overseas. Find her at Jayayoga.