by Kara-Leah Grant
I adore Jase Te Patu – he's a man with so much heart, and so in love with New Zealand and his Māori culture. Plus he's passionate about yoga – both the practice and the teaching of it.
When he and I sat down to have a chat about Power Living's Yoga Teacher Training here in New Zealand, it was immediately apparent how Jase has grown since we last spoke two years ago. The passionate boyishness has matured into grounded strength, tempered with an open vulnerability.
And, even better, Jase was happy to talk about the journey he'd been on that had fed this shift – his health challenges, learning to adapt his practice to meet the needs of his body and becoming a warrior of light.
It's a testament to the Power Living Yoga Teacher Training that it's facilitators are so obviously doing the work on themselves. (Catch our old interview down below for a comparison.)
Jase is a co-owner of Power Living Wellington, along with Justine Hamill.
We elevate and accelerate our students to teach authentically, build communities and transform lives, starting with their own. You'll learn applied anatomy, sequencing and yoga philosophy from experts who have decades of combined teaching experience. Our Teacher Trainings are led by the owners of Power Living and are dedicated to delivering a transformational and comprehensive program, empowering you to live with courage and passion.
Training with us will give you the knowledge and understanding to be competent on the mat and in the classroom, and help you positively impact the lives of your students and wider communities. Whether you're just starting out on your teaching journey or you've been teaching for years, Power Living offers a range of courses to support all levels of students.
For further information on tuition costs, dates and locations visit the Power Living website or email co-owner of Power Living Aotearoa Yoga Justine Hamill at justine@powerliving.com.au.
On bringing the treasures of Māori culture to Power Living:
"It's so beautiful to plant my feet in New Zealand soil and feel grounded; that sense of belonging, that sense of coming home."

"What has really hit me, and allowed me to open my heart to the teachings of yoga, is the fact that so many of the teachings marry really well with the teachings I was brought up with in my Māori culture."
On maintaining his own health & well-being while opening a yoga studio:
"I realised that in my list of priorities for my life my health was at the bottom of the list, and my [yoga] practice had come down to two practices a week, if that… I'm that guy who throws 100% into everything I do, even if I'm hurting."

"There was a disconnect between what I was saying [as a yoga teacher], and what I was practicing myself… It took that zenith of me hitting a wall for me to actually go "OK, pay attention now mate, love yourself and nurture yourself and do all the things that you so beautifully offer to your students."
On embracing vulnerability:
"People have know me as 'Warrior Jase', but how I see that now is about being a warrior of light, not a warrior in terms of the physicality of it… It's more of a felt, imbued, embodied, integrated version of what a warrior is."

"When another layer of you peels away, and a deeper layer of trauma and hurt is released, that can only mean a lighter, brighter version of you."
On the essence of the Power Living Teacher Training:
"In one word, holistic… I stick to my guns when I say that; I put two hands on my heart when I say that: This training is integrated."
On the transformation that comes with self-study:
"You just don't learn the sequences.. you actually do some of your self-work. That allows you to start living into your power, so that you can start from a place of discovering where your power is, and start teaching from that place, from an authentic, real place, right from the beginning."
"People come on to teacher training with us and they think "I'm just going to learn some yoga. I'm going to learn how to teach people handstands and splits and I'll be good." But all the time, every single time, people come out of it going, "Oh my gosh, I did not realise I was going to emerge from these three months a lighter brighter version of myself." And that's yoga."
On what defines a Power Living teacher:
"It means getting up and stepping up to teach from this place where you're OK to be messy, you're OK to be human, and you're showing people and sharing from this open-hearted space. That's living in your power."
About Jase: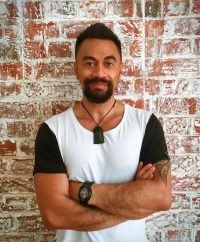 Kiwi, Māori, Brogi, Teacher, Student, Business Owner and partner are all words to describe Jase Te Patu.
Coming to yoga from an injury whilst dancing in South Africa, yoga has led to a huge shift in Jase's life. He has trained with a wide range of teachers including Les Levanthal, Ana Forrest, Eion Finn, Mark Breadner and Tiffany Cruickshank, but it was Power Living Teacher Training that transformed Jase's whole yogic journey.
Jase is a qualified Group Fitness, Dance and Performance teacher. He has choreographed for Les Mills International and performed with New Zealand's top entertainers as well as in Australian touring shows the 'Lion King'. 'Miss Saigon' and 'Jersey Boys'. Jase is co-owner of Power Living ​Aotearoa Yoga and facilitates retreats and 200hr Teacher Training. He has presented at Wanderlust Festivals and teaches strong and inspiring classes at our Wellington Studio.
W: ​powerliving.co.nz
F​B​: https://www.facebook.com/jasetp
Instagram: @warriorjase
Jase & KL's Interview from 2015