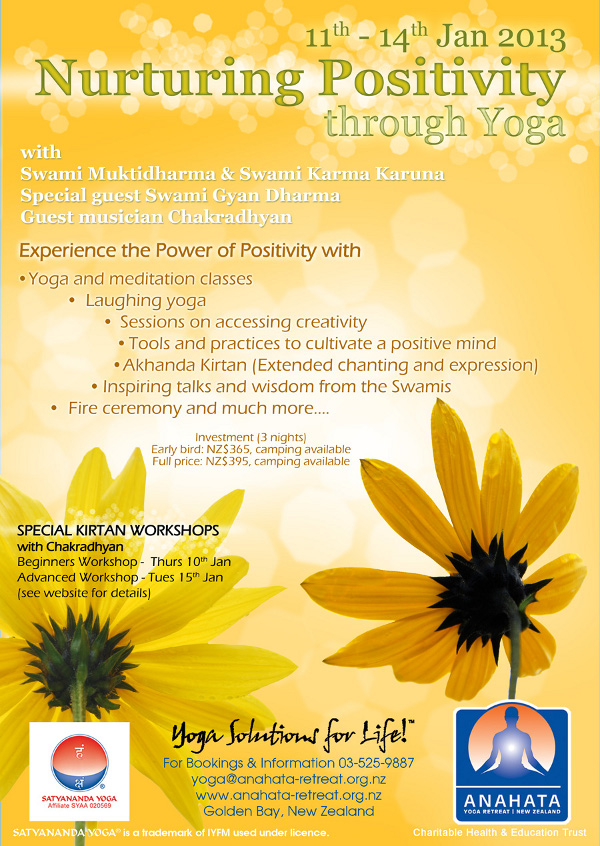 Celebrate life and experience the power of positivity through yoga.
"Separating the negative from the positive and selecting and holding onto the positive is the purpose of yoga" ~ Swami Niranjanananda
A positive mind is the key to peace, contentment and harmony. Learn the art of cultivating positivity and expressing it in all life situations. Discover how to celebrate life and experience the power of positivity through yoga in a stunning and natural environment.
Includes:
Inspirational talks providing tools for cultivating a positive mind
Akhanda Kirtan (hours of joyful singing and dancing)
Laughing Yoga Sessions
Nurturing Hatha Yoga classes
Meditations for stilling the mind and experiencing peace
Ancient fire ceremony and much more …..
Come and experience the power of positivity!
Swami Muktidharma, the New Zealand Acharya, is an inspiring teacher and speaker who shares from the heart his deeply experiential and practical understanding of yoga. His wisdom comes from more than forty years of experience in yoga practice.
Other presenters include Swami Gyan Dharma, Swami Karma Karuna and guest musician and kirtanist Chakradhyan.
Special Kirtan workshops with Chakradhyan:
Kirtan, or chanting healing sounds with music, is a powerful tool to release the mind from its chatter and to connect with the heart. Join musician and kirtanist Chakradhyan for these uplifting workshops to experience a powerful practice of yoga that calms the mind and harmonises the body, carrying one effortlessly to a place of inner stillness, peace and joy.
Music Workshop – Kirtan for Beginners
– 10th Jan
Connect with the joy of music and self-expression as you discover your skills as a kirtanist.
Art and Science of Music – Kirtan In-Depth
– 15th Jan
Dive deeper into the power of music. Fine-tune and enhance your skills as a kirtanist.
Booking Information:
PH: +64 (3) 525 9887
EMAIL: Anahtat Yoga Retreat
FB: www.facebook.com/anahata.retreat
Investment:
NZ$ 365 Early Bird if paid in full by 16th Dec
NZ$ 395 Standard Price
SPECIAL FULL WEEKEND PRICE
incl. Music Workshops with Chakradhyan on the 10th & 15th Jan (2 extra nights):
NZ$ 595 Early Bird if paid in full by 16th Dec
NZ$ 625 Standard Price
All rates incl. shared accommodation, all meals and programs.
Non-refundable deposit of 20% of total payment required to hold your place.
Locals discount available.
Arrival and registration is between 2pm and 4pm on Fri 11th Jan.
Private Sessions available by appointment.
A unique opportunity to receive practices and insights to suit your personality, body type, health challenges and get direction or a personal program, therapeutic applications and health consultations according to your needs.