by Lucinda Staniland
When I heard about Rua Hvitulv and Karen Pasquel of YogaRuka, the first Australian Yoga Studio to be fully ecological, I knew that we needed to talk to them here at The Yoga Lunchbox.
We wanted to find out who these studio owners were, what inspired their dedication to the environment and just what it means to be a fully ecological studio. Well, as their website says:
"We aspire to have the smallest possible environmental footprint so, from the 100% biodegradable mats to the organic cotton bolsters and straps, to rice husk bricks, to the resin used for the restoration of the flooring, everything has been done to honour the health of you and the Earth." ~ YogaRuka website
Inspiring stuff right? And it makes so much sense from a yogic perspective. So why is it that this approach, as far as I'm aware, is not the norm for most yoga studios here in NZ or Australia? Is it perhaps due to cost? The amount of research required? Straight-up ignorance? Or maybe ecological efforts ARE being made and they just aren't that visible to me…
I don't know the answer to these questions. But I'm heartened by Rua and Karen's hope that eco-friendliness will become the standard for all yoga and fitness studios.  This interview is a rich source of information and inspiration designed to encourage just that.
What sparked your awareness of sustainability and caring for the environment?
Karen: There's no life without an environment for it. What sparked my sustainability awareness was realising that. And also realising how much unusable rubbish we produce. That's why we went with natural, compostable mats in the first place.
Rua: I remember a strong love, and bond with nature, from the moment I could barely remember myself. My parents would take me on long walks through the forest every weekend. I'd look around in amazement and dad would say, "Green is good for the eyes," which always made me so happy to hear since it was a line from one of my favourite tales, The Ugly Duckling. (Thank you, mum and dad, for being awesome people!) Of course, with age comes a different awareness, but that connection was incredibly intense from my very beginnings.
What steps do you take to reduce your environmental footprint? Tell us about the specific products, techniques and processes that you use.
Rua: Lots of research. It's not always obvious and we still know so little about the proportions of the impact we humans actually have on the environment. Only very recently, for instance, we've understood what microfibre waste does to the ocean.
We thought buying yoga gear made from recycled plastic bottles meant we're being good to the planet, but that plastic is downcycled (not recycled!) into yarn that actually releases microfibres with each wash.
Then PVC – another hot enviro-issue: When buying the mats for our studio we spent weeks assessing all existing alternatives. You can be sure you'll go with one choice and then discover some obscure drawback. TPE is used a lot but then you find out it can only be "downcycled", and it's not biodegradable, it will end up eventually being plastic trash…, those gorgeous swede toppings are derived from crude oil, which also releases microfibres when cleaned,…
We ended up going with natural rubber, ethically sourced, but a few people can be allergic to rubber! So we have a few TPE mats for those cases.
Karen: We understand how confusing all of this can be and we try to take on as much of this work as we can ourselves, so our students can just focus on healthy movement. But we always try to educate anyone who's interested as well. Just like with our food, we are extremely mindful of what we put in the environment – same as with what we put in our bodies.
When you're making a decision about purchasing items for your studio, what criteria do you use? How do you determine what the best option is for the environment?
Karen: First criterium is their eco-friendliness. Renewable and sustainable materials: recycled rice husk for the bricks, organic vegetal fibres for the bolsters… We check where it's produced and if people that have worked for that product are hired and paid ethically.
Rua: Again, lots of research. Reading, and reading, and reading some more. Surely making mistakes, but always learning from them and getting better. Not cutting corners. Something that capitalism has been forcing people to – but we just won't do it. This is how we start creating a new world.
Does practising and teaching yoga in a 'green' studio feel different to practicing and teaching a conventional yoga studio? And do your students notice a difference?
Karen: It feels coherent. Having this alignment: what you preach is what you practice. I believe clients notice it too. Showing care for the world hopefully, influences them to care more for the world.
Is it more expensive to make eco-friendly choices?
Rua: Yes, eco-friendly products are more expensive upfront. But non-eco-friendly products that are cheaper upfront, have a more expensive delayed cost that is charged to the future generations. We think what we're doing is taking responsibility.
How has your yoga practice influenced your understanding of the natural world and your place in it?
Rua: I'd just have to pick one thing or go about it forever and ever. Yoga starts with Ahimsa. To hurt another being is to hurt oneself.
Karen: My practice helps me become more aware, more present. It started with my body, and then it translated to my world.
What are the first steps that other studios can take to become more eco-conscious?
Karen: Recycle! But recycle for real. Buy second-hand equipment if you can't afford the ethical equipment. Don't print your forms – have people fill them in online. Use biodegradable soaps. Buy the ethical toilet paper. Use washable towels instead of paper towels. And please, anything but PVC mats!
Rua: All good ideas. Also, there's one thing I'd like to point out: For us, the "eco-friendliness" is not a goal, it's a starting point. Our goal is to teach yoga and stretch therapy and offer the best studio experience possible. I don't feel the experience would be as good without all these efforts related to having a "green" space, but first and foremost this space is meant to offer simply the best-focused movement training in the whole of Australia, helping people regain healthy movement patterns toward the healthiest body they can get. And there can't be a healthy body that neglects and disrespects the environment, it's an oxymoron, a contradiction in terms.
Karen: In conclusion, we hope eco-friendliness will become a standard for all yoga and fitness studios, as it should be.
About YogaRuka: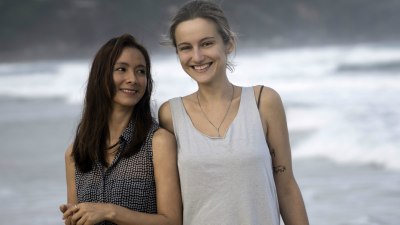 The YogaRuka Studio in Sydney brings up a revolutionary concept in training in an unparalleled setting. A Focused Movement framework that draws from Hatha yoga, Japanese yoga therapy, Stretch Therapy™, functional training, tai chi & Qigong, dance, barre, HIIT and more. A space that is the first to date in Australia to approach negative environmental and ethical footprint: sweatshop-free organic and biodegradable mats and props, an eco-friendly flooring and energy plan, 10% of profits dedicated to environmental causes. If that wasn't enough, it is Australia's first full-time movement studio in an old church. The building itself is an architectural treasure whose distinctive atmosphere can only empower practitioners to take their practice to the next level. Established in 1942 as a hospital for WW2 soldiers returning from the front, its metamorphoses include a children's hospital, a house of prayer and a luxury retreat.