by guest author Jonnie Halstead, Picnic Events
Did you know there is a thriving 'Yoga Festival' scene in the United States?
I didn't and I've been working the New Zealand festival circuit for over 15 years!
In early 2011 I attended a lecture by a prominent modern-day yoga 'guru' who was visiting Auckland from LA – yes, none other than Mr. Bikram himself.
Kara-Leah approached me at the post-drinks and asked if I had ever considered "something like Wanderlust" here in New Zealand.
Prodded for a definition she labeled Wanderlust a yoga festival – and I instantly poo-poo'd it.
All due respect to the yoga events that already exist here, some of which – like PRANA – are very credible in their own right, but commonly their brands fly under the media radar. Their production can be low-fi and they draw only a fringe audience.
These current yoga events are not exactly trying to appeal to the mainstream, and therefore grow the yoga community.
Not so for major US festivals such as Lightening In A Bottle and Wanderlust – both of which are highly planned and produced, with savvy brands marketed to educated, urban, conscious consumers.
Lightening In A Bottle says it is:
A celebration of Art, Sustainability, Music, Performance, and Life Itself.
It is the only US festival to win the 'Outstanding Award' from A Greener Festival, three years in a row. Just from looking at their website, I can tell that this festival is leagues ahead of where we are at with our eco-event practices.
And then's there's the movement that is Wanderlust.
Wanderlust's co-founder, Jeff Krasno's defines it as:
A new kind of festival, one that is participatory, and one where people aren't just staring at a stage but are actually actively involved in the fabric of what's going on.

The greatest goal is that one would have some form of transformative experience and at the very least just have fun… through yoga but also through hiking, theatre, inspiring lectures, art and crafts and all these sorts of things as a curriculum where people are involved and actually become the event.

At the core people will feel challenged, both individually and as a collective group to confront things and potentially achieve things that they didn't think they could do. Perhaps like any yoga class but perhaps in other ways that imbibe positive change.
That's heady stuff, but it's exactly how regular Wanderluster's describe their experience. The phrase "life-changing" is no cliché here.
Unfortunately, the bigger and more commercial the event in New Zealand, the less influence conscious consumerism has on the event.
Big cities, big brands, big markets, big numbers, and big consumption can often equal excessive waste – and I refer to brain and liver cells as much as the landfill.
Sure 18 – 24 year old target market has a great time. Sure it's super cool – but does a Big Day Out really result in our audience resonating:
"Wow! What I just experienced with those thousands of like-minded souls inspires me to be better in mind, body & spirit?"
If the word spirit is uttered at all it is more likely in reference to the % in their drink.
That's not to say there's anything wrong with having fun at a well-run rock festival. As long as you keep safe with your friends, it's part of being young and exploring what life has to offer. But what is the legacy?
Once a citizen reaches a certain age and station he or she tends to search for a deeper meaning from festivals.
The average age of attendees at Wanderlust is 33. This year's headliner is none other than Moby. The gender is massively skewed at 85% female. The binding agent of commonality is… yoga. But not just yoga, its also a love of the outdoors, organic wine, dancing your arse off under the light of the moon and ending each day sleeping in 4 star accommodation.
That would appeal to even the most cynical of part-time posturers – potentially introducing them to yoga they would never otherwise experience.
Six months ago, after countless sessions of debate between my yoga-teaching-holistic-American wife and I as to the merits of such a project (she was all for it while I remained reluctant), she convinced me to seriously look at what these festivals are offering and why they are so successful.
More to the point; could a similar event model which culminates a curriculum of yoga, adventure-sport, mindful living and dance music work in New Zealand?
After all, I have a mission to bring a higher purpose to my work and through it effect positive change in the mindset of the general public.
Which is why, as you read this, I am on my way to the Rocky Mountains in Colorado USA. I will have the pleasure of experiencing Wanderlust over the 4th of July holiday and then I'm heading on to Southern California for Lightening In a Bottle next weekend.
If we are truly yogic, I believe our Karma Yoga is to be inclusive of all and draw more people to an open community. We could want EVERYONE to have their own yoga practice and to join us with mats, side by side.
So is a festival the ideal shop window to the wonderful world of the mind body philosophy?
Could it be the occasion and place to attract a mainstream audience and invite them to explore yoga and all its positive spin-offs?
I hope so and I will report back when States-side. Wish me luck.
While he's State-side, Jonnie's going to be checking out the following yoga and music festivals:
Wanderlust is a one-of-a-kind festival bringing together the world's leading yoga teachers, top musical acts and DJs, renowned speakers, top chefs and winemakers, and much, much more — all in a setting of breathtaking natural beauty.
We're talking about fun in the sun and dancing under the stars. Hiking on peaceful trails and gettin' your down dog on at the top of the mountain. Sipping poolside cocktails with your friends, and then enjoying a tasty farm-to-table dinner with views of the surrounding mountain peaks. Early morning meditations and all-night chakra spinning musical performances – it's an all-out ecstatic celebration in the most awe-inspiring locations in the world.
See more on Wanderlust Colorado here.
LIB strives to be a greater expression each year. We take pride in curating local up and coming music talent and international world renowned artists. We paved the way for live painting at our events with Lightning in a Paintcan, which is headed up by our very own non-profit The Do Art Foundation.
We host speakers and workshops on topics of sustainability, spirituality and child-friendly entertainment. Behind everything we do at LIB is a deep commitment to our environment and our sustainability practices which we continually strive to improve every year.
LIB was the winner of the Outstanding Greener Festival Award, 3-years in a row!
See more on Lightening in a Bottle Festival here.
About Jonnie Halstead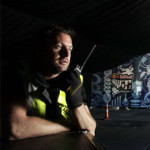 Graduating in Media & Design in 2000, Jonnie Halstead has since built a career out of catering to New Zealand audiences. He started out in the '90s rave scene of Christchurch and was one of the original crew of The Gathering. He's also been prolific in nightclubs, including the co-founder of the award-winning Club 'Sandwiches' in Wellington.
In 2006 he started PicnicEvents.co.nz and quickly grew to be a key part of some of this country's most renowned festivals including the Homegrown festival, Coromandel Gold, NZ Cup & Show Week and many more. But first-&-foremost he counts himself as a farther, husband, son, brother, cousin, friend, greenie and yogi.