I enrolled to take my first yoga teacher training in 2008, in an ashram situated in the lush greenery of Val Morin, Canada. The ashram was founded in 1962 and is located on 350 acres in the beautiful Laurentian Mountains.
In the first couple of days I struggled not only with the early starts and lack of communication with the outside world, but also with myself. On more than one occasion I caught myself wishing I hadn't come here and I beat myself up for being too chatty. I didn't find that the spiritual aspects of yoga appealed to me, so I intentionally avoided any temple or paraphernalia on the grounds.
Strangely, I also found that in the rare moments I did have time for myself, I would feel quite bored. We were given assignments every day and plenty of books to read related to philosophy and spirituality, but I was barely two pages in before I guiltily reached for my trashy novel hidden in my bag.
I found challenging to wear the same uniform every single day and looked forwards to Sundays to dress "normal" during our free day. I didn't form deep friendships and connections during my time there. On the contrary, I hung out with the "cool" kids who sat at the back of the class, had no interest in assignments and had conversations about imaginary wine drinking.
Being in the ashram tested me in every possible way, so much so that my life has changed entirely ever since and the ripples still navigate my journey.
I arrived there certain that I would be there only for a thirty day period, to learn about anatomy and yoga poses. But by the time I left the ashram it was as if my life story did not exist, it was part of a ghost.
You might call it brainwashing, but heck that was the best brainwash I have ever had. When I arrived at the ashram I had many plans ahead of me, however when I left I had a set affirmation in my heart, "I plan not to plan". This still resonates in my life.
During the tipping point of my stay, I began to spend much more time alone.I started sitting at the front of the class and participating in all of the devotional aspects of yoga. I was beginning to feel less distracted with thoughts from the outside world and I became more immersed and present. I even ventured inside a temple only to discover there were symbols from various religions in the room, integrating diversity.
I became curious about my resistance to being there and came to a realisation that there was nothing for me to go back to in the life that I knew. This led to a breakthrough of tears that opened me to explore taking a spiritual name and signing up for a mantra initiation.
The night before the ceremony I was walking to my dormitory and one peer randomly said to me in a funny tune: "This is your last night as Brenda." I didn't think much of it that night, but the next day was the tipping point.
The day I was initiated into my mantra while in the ashram was a very significant day in my life. You are not obliged to do it; you make that choice for yourself.
By inexplicable reasons, that day my spirit was in a state of mourning, or so I came to realize some time after. My spirit was weeping for such a long time of yearning. Being in a safe environment where you are supported by your peers and teachers assist these types of experiences. Looking back makes me realize how open I must have been to accept a rebirth in my life.
I could share with you many of my journal entries of the various experiences I had in the ashram. But I find what happened after was much more enriching.
On the last day of our training, there was a big ceremony full of excitement, blessings and joy. We had all made it, we had gone through a month trial and we all had a glow in our eyes that can be seen on those who dare to remove the veils in their lives.
I was running down the Peace Trail towards the transportation van that would take a few of us to the airport and I looked back for a moment when one of the staff looked at me and asked: "Are you happy?" To which I responded without a doubt: "Yes." He responded back before walking away: "Now it is time to take the ashram with you."
It took time for me to understand these words as I was very excited to get back to my "old" life and see my friends and family, even considering teaching some classes. Moving back into the world was like moving in a jar of jelly, it was not quick and not easy and even sticky. In fact, I felt I had one foot in one place and the other foot in another for a very long time, even years.
Taking the ashram with me meant to me that it was my duty now to keep cultivating the space in my heart that had started to flourish while I was there.
It was a space that I didn't even know existed before. No one in my "old" life knew about me with this space included in my life, and I don't blame them, how could they know? Being on my own out in the world, I had to make an everyday choice to remain open to the new me that was learning how to walk in this life.
The practice of karma yoga had one of the most profound impacts on how I was able to continue my connection to the ashram. While doing our karma yoga duty, we were kept so busy there was no time left to think about ourselves and our wants, as such I found karma yoga to remove the ego from my actions.
The traditional yoga that I learned in the ashram was a set yoga sequence, part of the legacy left behind by the founding teachers. I had come from a vinyasa background in my practice, so I was very excited to start teaching my own sequences, and to give my classes my own "taste". I began to notice that there were some weeks where I was extraneously tired, and had no mental space to prepare a class, so I would simply switch to automatic pilot mode and teach the set sequence I had learned.
Those began to be the classes when the students came up to me after class to say how much they had enjoyed the class. I stopped showing up to class with a set idea of what "I" wanted to teach. I began to serve the teachings of yoga by following the teacher's guidelines and daring to be simple.
After around two years of following that method, I became aware how my mental pattern had shifted and a sense of intuition had developed. The removing of the "I" had brought in a beautiful voice who led the classes.
This action worked in several ways. In the past I would feel very uplifted by a compliment about the class, and very disheartened if someone made a negative comment about it. I was no longer affected by the positive or negative comments in a personal way. I could start to see the ways in which yoga could be approached by so many angles in each individual that was situated in that class.
During my time in the ashram, I realized for the first time in my adult life that it was OK to come to a place and still be myself, and that I didn't have to fit into a specific mould to be a part of something.
I still hold with me my t-shirt part of the uniform at the ashram to remind me that I am still a student. I offer a prayer at the beginning of a class that I may continue being of service to yoga teachings. When I practice on my own, I come back to this place in my heart. The key of this understanding is to step out of our ashrams, or mat, and into the world, bringing a continuance of our practice into every experience.
About Brenda Bhavani Davies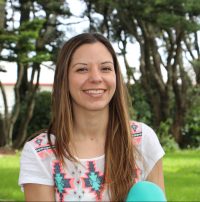 You can find Bhavani teaching regular classes in New Plymouth, NZ. She co-owns with her husband the Sivananda Yoga Centre which opened 10 years ago and when not in class she can be found being a mum. Born in South America, she encourages cross-cultural accessibility and enjoys bringing people together. Bhavani has spent a decade studying yoga and offers a combination of asana, meditation, breath and chanting in her classes and workshops. She has been running annual retreats for the past 7 years and has taken the plunge to build a yoga retreat venue. This place called Sanctuary Hill located in the Taranaki region is programed to be open in 2017 and will offer various immersions for yoga, meditation, adventure and well-being. For more information visit the  Sivananda Yoga Centre website.