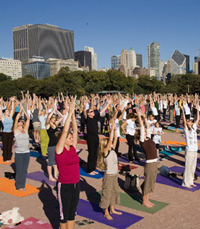 In Part 1 of How to Organise a Super Successful Yoga Event, I looked at making sure you're committed to the event, refining the timing and location of your event and spending some quality time visualising exactly what it is you want to create.
Armed with this information, and this vision, you're now primed and ready to take that vision and make it happen.
I'm a list kinda girl when it comes to organising – nothing like writing down what needs doing, by who, when and how.
It also helps in my busy world to divide my list into Have-tos and Nice-to-dos. But before you make your list, first have a read of some other things to think about.
4. Audience – who's interested in coming?
So maybe you're super keen, but would anyone else be? Make sure that there is demand for the teacher that you're offering to host. Canvas your own students first to get an idea of how many of them might be keen to come along. If you can't even drum up any support there, then why bother? If your students are keen, great, you've got a starter. But don't stop there. Think laterally when it comes to audience. You want to reach out to anyone in the community who could gain from coming along to your yoga event.
If it's a visiting power yoga teacher with a serious international sports background, it's quite likely that some of the sports community in town would be interested in attending.
If it's a Swami with a direct lineage to a recognised guru delivering a talk on the nature of reality, you'll find that people interested in the big questions in life would likely be keen to attend – Buddhists, Spiritualists, people from other churches and faiths, philosophers, history students and meditators.
Don't get stuck in a narrow mindset of thinking that only yoga people would want to attend. Hosting a yoga event is a great way to expand your range of contacts within the community at large. Don't be afraid to reach out to schools, churches, community groups, health providers or even business groups. Some groups may not be able to afford to come to your event but would benefit enormously (stay-at-home mums, the unemployed, the terminally ill). Always think about how you can offer a cut price or a free number of tickets to a select audience. After all, success isn't only about the money the teacher or you might make. It's also about how many people are inspired and uplifted.
Make sure too that you reach out to the entire yoga community – not just your own students. Get on the phone and talk to other teachers and studios. If you don't know these people yet, this is the perfect opportunity to introduce yourself. If you can get other teachers and studios as fired up about this event as you are, they'll naturally help sell it to their own students. (More on engaging the help of passionate fans later.)
5. Media – what's the story?
Nothing gets the word out like a front page story in the local paper. But to get that kind of coverage, you need to think about your event from the point of view of the media. They're not interested in the fact that you're putting on an event (although there may be free radio and newspaper community listings worth advertising in.)
Nope, the media wants the story. The drama. The guts and glory of it all. And they love it when you call them up and give them a hot lead that could be a juicy story.
Like how the hell does a boy from rural New Zealand end up as a Guru-attached Swami?
Even if the visiting yoga teacher is BIG in the yoga community, don't think that the local media are going to know who they are, or even care. It's up to you to convince them that getting this person to come to your small New Zealand town is a Big Deal. If you've got a yoga star coming, and you can convince the local media they're worth talking to just on the basis of their personality, you're going to get great coverage.
So get some idea of how you're going to sell the story to the media, then get on the phone and call your local paper. Even when it's a biggie like the New Zealand Herald. Now is not the time to be shy, it's the time to be bolshie and charming. Give them enough notice and they may be able to write a feature in the Weekend section. The article might not even end up mentioning your event, but if it gives the visiting teacher some profile it's going to attract people to your event.
Don't forget about radio or local TV too. Back when I used to host a two-hour current affairs radio show, I was always scratching around for interesting guests to fill my time slots. I was stoked when people called me up and told me someone great was coming to town. It made my job so much easier!
And if you're going to be bringing people into town regularly, start cultivating the local media. Find out who they are, what their deadlines are and what kind of stories they like to cover. If you live in a small town, this isn't hard. Journalists are always eager for a story and they appreciate it when you can help them out with something juicy. Just be prepared to fill them in on the background of your visiting teacher, and try whenever possible to give them a story angle – not just the boring facts that you're hosting an event.
6. Promotional material – it is pretty and does it sell?
Gather together everything you're going to need to sell your event and your visiting teacher. Remember people need to know more than just who's coming—they need to know WHY they're wonderful. It's pointless sending out an email saying Mr. So & So is coming if you don't tell them WHO he is and WHY he's great and WHAT they'll GET out of coming along. People don't have time to do their own research, you have to dish it up for them. People like pictures too. What does this person look like?
Plus it never fails to amaze me when people go to the trouble of organising an interview with a visiting teacher on The Yoga Lunchbox and then fail to send out the link to that great interview in their marketing material. Use what you've got people! When I interview people for yoga events, I'm asking questions designed to elicit answers that will make people want to go to the events. If you've got me to do an interview, use the link as much as you can. This is your research and selling material done for you and handed to you on a platter. Eat it up!
If you are going to print up posters, make them look professional. Colour, pictures, what's happening and why it's wonderful. Send people to a website for more information. And then get those posters up everywhere. Don't have what it takes to make a poster? Find a friendly graphic artist you can bribe with free entry and put them to work. For the skilled, whipping up an awesome poster doesn't take long.
And yes, it matters! A professional poster says 'This event is worth it, and I believe it's worth putting effort into because I care about it.' Forget about a black and white, poorly formatted, text poster created on Word. Sure it may give you the information, but it doesn't sell the event. And that is what you are here to do… Sell The Event.
So anything that you send out to promote your event, make sure it's not just informational, but that it's inspirational. That is – it doesn't just give folks the bare facts and expect them to leap for joy and sign up immediately. No, you have to inspire people to come along with your promotional material by telling them the facts but also telling them how they'll benefit. People need to be told they'll have a great time, that they'll find out a big secret that will change their lives, that they'll meet new friends, break open their hearts, finally touch their toes…
There are an endless numbers of ways you can promote your event, with endless amounts of promotional material. So when you're thinking what to do, think about your audience. The first has to reach the second. Where does your audience hang out? What are they reading, listening to, and watching?
Social media can be your best friend here – if you've already got a passionate tribe of like-minded folks gathered around a metaphorical campfire, you can reach them in one easy hit – like a Facebook message to your fans. If you don't have a tribe of your own, find out who's leading a tribe that you want to talk to (like The Yoga Lunchbox). The best thing about social media is that you can gauge your promotional material's impact – people can reply, they can talk about the event, they can even accept a RSVP. Posters on the street don't have that immediate kind of feedback.
In Part 3 of this article, find out if you've got what it takes to hustle, the importance of working with passionate fans and how to pull it all together.