by guest author Kate Southward, Yogi's Basket
At the beginning of Peter Jackson's 2005 remake of King Kong there's a scene where the savage natives tie up damsel-in-distress Naomi Watts as an offering. Then they bash repeatedly on a 3-meter wide gong calling to the beast to come and take his fill.
The reverberating gong is haunting, loud and penetrating, as the sprinting monster smashing through the forest gets closer and closer to collect his prize.
Eighteen months ago, I was that savage native, bashing on the gong and screaming at the universe –
Bring me yoga!
So, as Peter Jackson so beautifully portrayed it, be very careful what you wish for.
Within six months I had moved half way around the world, changed careers, started new friendships and signed up for a 500 hour teacher training that would normally be taught separately as a Level 1 200 hours, and then a later Level 2 300 hour course.
People were seriously concerned.
I was called crazy, 'gung-ho', a bit nuts, foolish, impatient, a silly girl – and it definitely couldn't be done.
I was lucky enough to do my teacher training with Mr Yoga Coach, Aussie Mark Breadner, the undisputed yoga education guru. Through several emails, phone calls and long winded diatribes about 'why', I managed to persuade Mark to let me do the full 500 hours in one year, rather than over the normal two years.
Label it the Air element in me.
I like to keep busy. After meditating regularly for two years I can safely say the number one thing I have noticed is that once I get an idea clear in my mind about what I want, very little (nothing!) gets in the way of my achieving that.
I haven't always been this way!
Before the days of a more regular practice I could be indecisive, uncommitted, complaining, vague, untrusting and sceptical. The practice gave me support, like a new pair of shoelaces in worn out leather shoes, things started coming back together.
From the 1st of June to the 7th of November I worked my full time job in Publishing and practiced yoga nearly every night and all weekend – with the allowance of 3 weekends off. Two of which I had commitments to travel overseas for a work conference and a milestone family birthday. Work travel and family occasions – unfortunately not restorative breaks.
Perhaps you've got a project coming up, something on the cards that's worrying you exactly how you're going to make it all happen and come up trumps?
Here's my top six tips on how to make it through, frontal lobe intact.
1. Cut out any unnecessary suffering.
When I really sat back and looked at my life, I could safely attest that 95% of the things I regretted happening, the 'doh!' moments I wished I could take back, revolved around my abuse of alcohol. So I decided to take a six month detox off the booze.
It's been SO good not drinking, dealing with hangovers, using every minute of my weekend and not spending all of Sunday behind dark curtains drinking slushees, I doubt I'll be going back.
Your suffering could be different to mine, perhaps a non supportive 'un' friend or 'un' partner that could disappear for a while?… ever?
2. Start a vision board of your big audacious dream
Right the way through the six months I was adding to my now 3 meter wide, 80cm deep vision board.
A myriad of mentors, inspiring words, yoga studio space, blogs, books, products, plants, views, and locations. It is an inspiring and thoroughly therapeutic activity and I highly recommend the process. Although god forbid a man ever enters my bedroom again. Shame!
3. Sustain a regular meditation practice.
20 minutes in the morning, 20 minutes at night. Resolve to sit in the chair. Pranayama if you know it.
This was the lynch pin of my wellness – that time of day that I was getting more rest than when I was asleep. It was a restorative, quiet, reflective, coming back to myself from the din of crazy town.
If everyone could meditate, the world would be such a different place.
4. Seek out your real sangha
As far as I can see one of the most beautiful things to come out of western yoga teacher trainings is new friendships made. In yoga, good company, the 'sangha' is held above all else. Having an authentic, true friend to reach out to in a time of need is worth more to me today than anything I own, or thought I possess.
When you're feeling particularly overwhelmed, it's no use sitting with it yourself, you need to share the energy and be grateful for the support.
5. Eat well
Shop online or dedicate time each week to getting to the supermarket to purchase fresh whole food.
Every morning I would indulge myself with a 100% fresh vege juice (Spinach, celery, beetroot, carrot, mint, ½ green apple), chia seed porridges, fresh salads, baked salmon, grainy seed bread, sweet potato, dark chocolate, alkaline water.
I felt strong for eating well, and making conscious choices about my eating helped me keep on the path.
6. Be so f**king kind to yourself you could cry
Ninety minute Thai massages, pedicures, manicures, a new piece of clothing, popcorn and choc top at the movies, sitting up with the full moon writing notes to the universe, skyping long distance loved ones, making time for old friends, going out to new restaurants, writing, creating music playlists, sending presents and elaborate birthday cards..
Figure out whatever it is that gets you back in the flow and as soon as you feel yourself turning to seed, some niggly issue gossiping in your ear, use treats to bring you back to your practice.
Tough love might work with a puppy, but it doesn't work when we're working on ourselves.
Take it from one that's experienced the dreaded sling back effect, when you can't sustain the 'this is how it HAS to be' expectations of old friend mind. When you're working way outside your comfort zone, it's better to be kind to yourself to keep the candle burning at both ends rather than get out your cane stick.
Look, I'm not going to say that there weren't a few days where I thought I might slap someone in the face – there were – but the practices above certainly soothed the soul and helped me cross the finish line in one piece, although quite a different, hopefully wiser and evolved piece than went in.
I implore you, make up your mind about what you want – and I guarantee you, it most certainly can be done.
About Kate: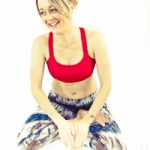 New Zealander Kate Southward is the curator and founder of Yogi's Basket, a holistic wellness  & yoga magazine inspiring access to 'the good life'.  
A 500 hour Yoga Alliance accredited teacher, Kate was mentored by Australia's Yoga Education Guru Mark Breadner. An intuitive teacher, she believes to overcome stress in modern day life we need to rest down and let in.
Follow Kate's wisdom @ Yogi's Basket  or Facebook or  Twitter