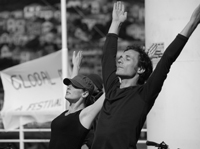 by guest author Alys Titchener, author of blog Squashed Mosquito.
Set up against all weather predictions, long term at least, Global Mala took to the outdoors on Wellington's waterfront.
An hour before, it was hard to tell if the blue sky was teasing us or accommodating us. From one hour to the next, it's hard to know what the weather will do in Wellington. We arrived in optimism giving thanks to the sun; an attitude to befit an afternoon of sun salutations.
Not having done more than 3 sun salutes in a row for a very long time, I arrived with modest goals. In fact, in keeping with my newly distilled 'be kind to my self' mantra, it was likely most of my afternoon was going to be on the parameter, holding space for the real yogis in there.
I placed my mat down, in front of my yoga teacher Kelly, this gave me a view of the north sky and the just-out-of-reach sea below it. I knew this would be a personal practice, but having my teacher so close started me out with a comforting mental resilience.
Melissa welcomed us into the circle, followed by Ricky on the conch shell; a sound that simultaneously bound and opened the circle. Billy offered a karakia and a meditation that allowed us to focus in on our intent as he sang a Sanskrit chant.
Again I repeated to myself; be gentle, be kind. I offer this as healing energy to my husband who can't participate in the sequence. And here's my challenge; try and do 27 sun salutes. Yip, I'll be stoked to do 27!
After a little warm up led by Melissa, the Tibetan gong sounded and we began under the meditative drone, tinkle and paddle of kirtan.
The sky is so blue I thought as I raised my arms and eyes skyward. My mat is so green as I dropped forward. Oh I hope that left shoulder of mine is up to this, as I did my first downward facing dog. Argh my wrists, as I transitioned into plank. Hmmm, I can taste that dried apricot (cobra). Engage abs as I swung back into downward dog again. What a great view of the world from down here!
Forward I stepped and raised my arms skyward again, sensing now that blue sky was on our side. And so it went, one posture, one thought.
A rhythm quickly developed and a dance appeared before me. My body found the sequence it needed to sustain itself, like my muscles wanted to co-operate and were willing to rest when they weren't needed, and engage when they were.
I've heard it said that downward facing dog is a resting position, and within 20 or so sun salutes, this became true; one of those little ah-ha moments of practice that sprung into my mind as the gong's throbbing wongging base sounded the completion of our first 27 rounds of sun salutes. I broke into a smile – I can keep going! My body is in full co-operation with me. I'm not fighting anything here.
In the two minute break, a friend of my husband came over; I'm really worried about Billy he said. Billy, my husband, had taken himself back to hospital after giving the karakia. Billy and I had discussed this before hand and thought it the right thing to do. Now a thread of guilt attached itself to me; am I being selfish doing this? Should I have gone to the hospital with him?
The gong sounded and with very little space for thought I clambered back into the sequence again. Our salutations were still of a slow nature, and I had time to really consider my intent here again. Is this the kindest thing to do? Am I really making a positive difference for Billy by doing this?
I was really in the dance of it by this stage and my thoughts could not peal out much further than my muscles and breath. Up, out, down I went, and each time I lifted my eyes to the sky, the emptiness of it brought a lightness to my thoughts and the guilt dissipated. In that new space, little drops of insights danced with me. Like, follow the light. And the dance went;
Light thought: Billy is being well looked after and is in good hands.
Heavy thought: I should be with him.
Light thought: Western Medicine is very good at treating the acute. Heavy thought: Western Medicine sucks.
Heavy thought: We shouldn't be using Western Medicine.
Light thought: If we are wise to it, we can see in the failings of Western Medicine that it 'allows' us to take responsibility for sustaining our own health.
Light thought: We loose our power when we hand over our healing responsibilities to someone or something else.
Light thought: Thank you that Billy is open-minded enough to go to the hospital at this time, and take responsibility for his own on-going healing.
Light thought: Thank you that Billy knows and appreciates that I am sending him all this yogic juice.
Within a couple of asanas, I was present within my body again and rededicating my practice to Billy's healing. The billowy gong sounded; we were half way through, and my body and mind were now in complete co-operation. 54 more sun salutes to go.
The kirtan sped up, the tabla and drums pulsing out a higher vibration. It took every physical and mental exertion now to stay present with the practice. A cloud and a wind stole my attention for two rounds, and then those two disappeared. I claimed my relaxation in downward dog and greedily embraced the pranic light and air as I faced the sky. The gong sounded wild and wobbly to mark the completion of the third quarter. And I wanted to keep going.
In the final section, the music softened into a devotional chant and the earlier graceful dance returned to me. All I could see now was the light dancing around all of us; sharp little flecks of white sparkling into the blue, over the entire horizon of our Mala. I knew I'd make it to the end now, and when the final gong broke my reverie, I ran over to Kelly and gave her a hug. I was juiced up in yoga joy.
And then I was crying.
It was while I was lying down, fully relaxed, the sadness came. Or rather, the cells within me holding that sadness like a kite, decided to just let it go. The wind sped past me flapping my mat, and then I was still. Spacious, tired, energised and still. I have a theory that when I can hold a contradiction, then I am holding Truth. This is what I felt my body was holding. Truth, and a dedication to peace of mind and, outwardly, healing to all.
And at the same time, I was not holding any of this.
We ended on 108 OMs, and all that peace in and around us was amplifying out out out. I was facing toward the city and could see it bursting at the seams with goodness.
And in there was the hospital, holding and flushing all of that through.