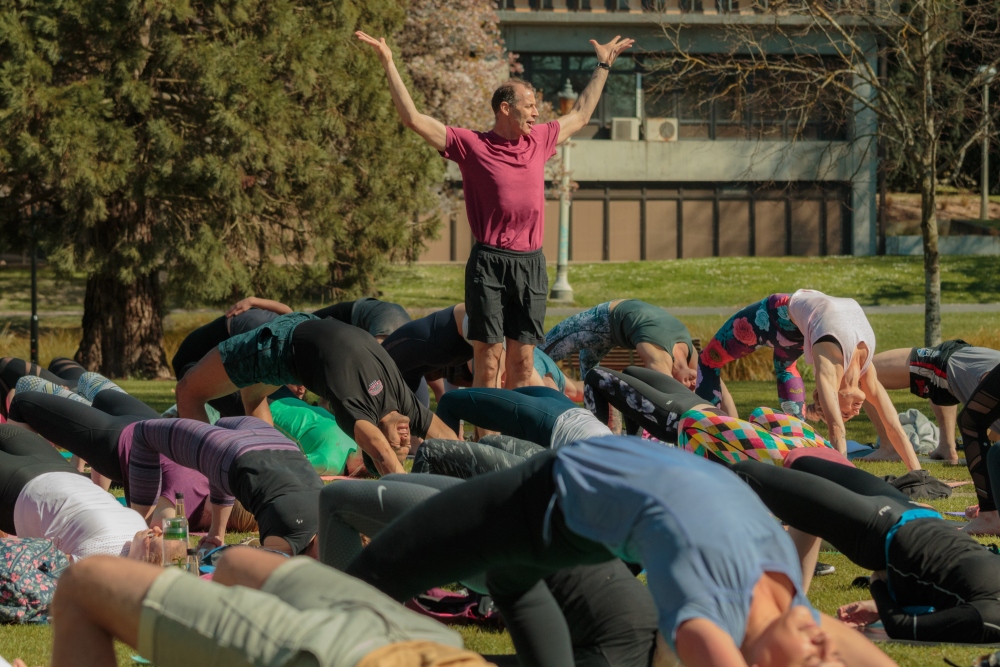 by Lucinda Staniland,
The first time Hamish Kenworthy came onto my radar was in 2016 when The Yoga Lunchbox conducted a search for The Best Up and Coming Yoga Teachers in Australia and New Zealand. We were flooded with hundreds of recommendations from yoga students, but some of the most touching, enthusiastic and sincere testimonials were for one Hamish Kenworthy of Apollo Power Yoga in Christchurch.
Hamish's students all described his extraordinary energy, his jokes and sense of humour, his technical skills, his ability to take each student to their own individual edge and, most strikingly to me, the deep care that he demonstrates for his students.
As one student said:
I still remember my very first day at the studio, I just talked to him for one minute before the class, and he could remember my name, and the name of everybody else in the class… I felt special and motivated. For Hamish, every student counts, we are not just one more in the practice, we are the practice.
In Hamish's interview with Kara-Leah, I was finally able to see in person this care, dedication and sweetness that makes Hamish such a well-loved teacher. It's a true lesson in presence!
Join Kara-Leah and Hamish as they explore the role Apollo Power Yoga played in an inner-city Christchurch devastated by earthquakes, the philosophy and processes that underpin Hamish's teachings, and why leading Yoga Teacher Trainings is both his greatest challenge and his greatest joy.
---
Hamish Kenworthy on Why He Doesn't Regret a Single Moment of Opening Up
---
Apollo Power Yoga runs an RYT-200 training course called Step into your Power. This course runs as two eight-day intensives. The first intensive for 2019 runs 12-19 January (both dates inclusive) at Wainui Park Camp, Wainui on Banks Peninsula, South Island, New Zealand. the second will be 21-28 September 2019. The venue, about an hour's drive from Christchurch, is on a beautiful bush-clad site with lovely bird life and a very peaceful and relaxing atmosphere just a short walk from a stony beach on Akaroa Harbour.
As this intensive forms part of a Yoga Alliance approved teacher training programme there will be time committed to the five curriculum elements of:
Techniques, training and practice,
Teaching methodology,
Anatomy and physiology,
Practicum and,
Yoga philosophy, lifestyle and ethics.
The three areas of greatest focus will be meditation, asana and inquiry. The elements of the week will serve you well regardless of whether you are intending to be a yoga teacher or simply wish to follow the yogic thread deeper into yourself and your life.
This course will ground you in a clear sequence with extremely effective teaching methodology and will give you the ability to step into a class and teach a powerful, well-sequenced practice to students. It will also act as a transformative process of personal development and will help you revitalise yourself and shed limiting self-perceptions.
As one participant of the course has said:
"I came to the trainings to challenge myself physically and left with far more than I could have imagined – physically, mentally and spiritually. Your ability to read people and hone in on what they are saying (or aren't!) and what they need in that moment is a real gift, you have taught me a lot about myself, encouraged me to drop a lot of stuff I don't need, and helped me to create a new way of thinking that ultimately makes me a better person."
---
Quotes from the Interview
On opening a studio in post-Earthquake inner city Christchurch:
"We believe that yoga plays a role in supporting people physically, mentally, emotionally and spiritually at any time, and especially in a time of crisis and uncertainty where you can't even trust the ground beneath your feet… So we just kept showing up – not just giving the mechanics of the class, but also how to deal with adversity and be grounded within youself even when there's a maelstrom all around you."
On his Yoga Teacher Training with Baron Baptiste:
"I opened up and I don't regret a single moment of opening up."
On what he loves most about teaching yoga:
"I feel like I'm at my most powerful as a teacher when, and I gain my most satisfaction from, teaching teacher training programs."

"It's my greatest challenge, but it also brings out the best in me"
On his process for working with fear:
"You've got a responsibility to your students and you can't get in your own way by becoming doubtful or uncertain or frightened, you've just got to put yourself there in the crucible – in fact, be the crucible and be stronger than the elements that are being melted within the crcuible. You've got to show up."