Winter can be a dreary time down here in Dunedin – cold, wet, miserable, overcast, closed in… although to be fair, there seems to have been a decent amount of sun this year. But still, by about mid-August, the city is seriously yearning for the return of summer.
Bring on long, almost-hot, clear sky, blue days with the smell of the surf, sand and sea wafting in from St Clair and St Kilda.
It's one reason why I reckon Global Mala is such an awesome experience down here in New Zealand – while up in the Northern Hemisphere, Global Mala heralds the arrival of autumn and the descent into winter, here in Godzone country, Global Mala is celebrated on or close to the Spring Equinox and heralds the arrival of spring lambs and daffodils.
Many people when they first hear that Global Mala is about doing 108 rounds of a yoga practice – typically sun salutations – are shocked. 108 sun salutations!!! You've got to be kidding right? There's NO way I could do 108 sun salutations.
Ah, but of course you can grasshopper – you do 108 sun salutations the same way you do five sun salutations. One at a time. In fact, you do 108 sun salutations the same way you do any yoga class – one pose at a time, one breath at a time. Challenging the mind and the body in this way – to exist only in that breath, that pose – is what gives the practice of 108 sun salutations immense power. Yes, immense power.
Take a moment right now, make sure you're seated comfortably, and imagine in your mind's eye that you are lying outside, on the grass, under the blue sky, with the spring sun beating down on your face. You've just completed 108 sun salutations. Yes, you've successfully completed 108 rounds of sun salutations. How do you feel? How does your body feel? What state is your mind in? What is your energy like?
And then know, if you can imagine it, you can do it 🙂
Last year at Global Mala Wellington 09, I was pregnant with Samuel. Five months pregnant. I wasn't sure what those 108 sun salutations would be like, me with my growing belly and lower energy levels. But I didn't think, I can't do it, or there's no way, or I'm pregnant which means I can't. Nope, I stayed open to the experience and thought to myself, I'll just do the first 27 and see how it feels. The extra weight in my belly meant it was more appropriate for me to do plank pose with my knees on the ground, and rather then lower right down before scooping into Upward Dog, I did a modified version that looked more like Cat Pose.
Staying in the moment, and addressing the particular needs of my body the way it was on that day meant that I was able to stay in that one breath, that one pose. Round after round after round, I kept going. Having done it the year previously in peak condition, I knew something the first timer might not know about the accumulated practice of sun salutations – it doesn't wear you out, but energizes you… Yes, every sun salutation you do increases the amount of prana, life force or energy available to you. The body and muscles do fatigue over the practice, but in a delicious I'm-getting-worked kinda way.
I completed the practice, Samuel completed the practice 😉 It was a wonderful thing to do while pregnant, and I loved the idea of him cocooned in his watery haven doing round after round of sun salutation with me.
However doing round after round of the same asana over and over again is not easy. It's likely though that it won't be your body that struggles with the practice, but your mind. It's so easy to think… 107 to go… 100 to go… oh god, how many more… when will this be over… all of which is a huge mental and physical drain on the practice you're doing. It's like trying to swim the Cook Strait with a giant anchor towing along behind you.
No, the way to do 108 sun salutations is to practice total surrender to the moment. Here I am, and this is what I need to do right now. Here I am, and this is what I need to do right now. Here I am, and this… Stay with your breath, stay with your body. Pay sharp, focused attention to the incremental changes as you progress from 27 to 54 to 81 to 108 sun salutations. Be endlessly curious about what you're experiencing – it might be a year before you get to do it again and you don't want to miss anything interesting!
Yesterday, doing my first warm-up practice in preparation for Global Mala, I did 27 sun salutations. I was surprised to find it only took me twenty minutes. I was also surprised to notice, round after round, that I habitually held my breath in upward dog. Noticing this gave me an opportunity to literally practice always breathing in this pose, to notice that it was difficult for me to get a full breath as I opened up into it – that my breath got stuck in my throat. All those years of practicing and I can't say I've ever noticed this!
As well as being endlessly curious about what you're experiencing, be mindful too of what's driving you, what's motivating you. Is it the ego standing above you cracking the whip and stomping up and down, You Can Do It! Keep those knees up! Keep going! Push through the pain barrier! You wimp!
There's danger there. Of the injury variety. Part of having an open mind and no expectations when you go into the 108 sun salutations is honouring your body every step of the way. That means modifying the poses when you need to. It means taking child instead of downward dog when you need to. It may even mean taking child for one round if you need to, because sometimes, that's what you just gotta do.
And there are times that despite our best intentions, we may not be able to complete the 108 sun salutations – an old injury may flare up, or a new injury rear up. When this happens, we can still stay with the intentions and energy of the group – holding tadasana with total presence while everyone else around us salutes on.
This repetition of the same postures over and over and over again can be hard on the body. This is why our alignment is absolutely key – even the slightest crook in our alignment that weights our body a little funny will be amplified as we do it over and over again. Plus having great alignment means that we're going to be stacking our bones on top of our bones and the postures themselves become far easier than if we're trying to use just our muscles to hold us up.
This is one reason I've put together a workshop for August 21st on surya namaskar called Awaken your Inner Sun.
During an ordinary class, there isn't the time to go in-depth on the specific alignment of each and every posture. Plank in particular is problematic for a lot of people – sag through the mid section even a little bit and you'll do nasty things to your lower back over 108 salutes. With a little time and attention, it's also very simple to help people sort out these minor alignment issues, using a process Shiva Rea calls energetic alignment.
Energetic alignment means we switch our awareness from the gross level of the body and instead focus on the lines of energy that our muscles, bones and ligaments are wrapped around. Finding these lines, and ensuring they're open and flowing creates easy alignment and strength. It means that when we do our 108 sun salutations we're tapping into the power of prana to takes us through. It's something well worth learning before attempting to do 108 salutues!
As B.K.S Iyengar put it:
Perform each asana as a mantra and each pose as a meditation then the light will dawn from the centre of your being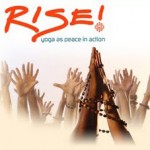 Global Mala Wellington
Global Mala Dunedin
Global Mala Havelock North
Global Mala Anahata Yoga Retreat
Ginnaya from The Inner Space is looking for people interested in organising Global Mala Auckland, contact her for info.
The suggested recipient charity for Global Mala NZ 2010 is The Yoga in Prisons Trust.  Donate directly via that PayPal button. Thank you!
It's just $40 for waged, $30 for unwaged, and happening at the Dunedin Yoga Studio. Limited to 20 people. Only five places left.

Want to host this workshop in your lower South Island community? Get in touch with Kara-Leah to have a chat.