Creating new playlists for yoga classes takes time – anywhere from two to six hours to listen, select, sort, order and polish the right playlist.
Once you've done that, it needs to be road-tested with a class a few times, and tweaked where necessary.
So to save you some time, and fire up your creative juices, here's seven of my playlists for you to use. Some are couple of years old, and one or two are brand new. (They're named according to the feel of the playlist, or when I created them.)
These are only the names and order of the songs I use – you will have to buy the songs themselves via iTunes.
But the hard work is done. You know these playlists work. At $2 a song… most of these playlists will only cost you $20 – $30, and turn you on to some new music in the process.
Enjoy!
Juicy Yoga:
This it a fluid, watery, sensual mix designed to help people go deep in an easy way. I use it for hip-opening classes – think pigeon and lunges and dancer's pose.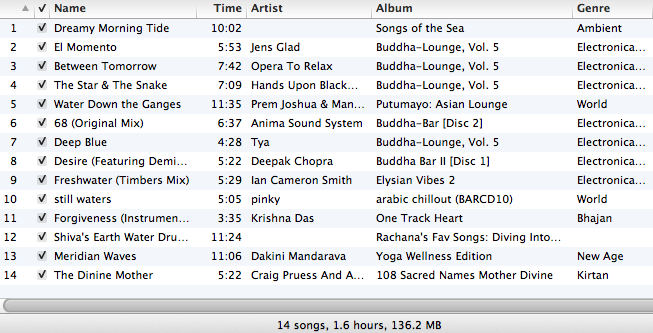 Monday:
This starts slow and sparse, giving plenty of time to take people through a long slow child's pose, or breathing exercises. Later they'll be glad of that slow beginning, as from the second track on, the pace picks up. Track Three is a classic New Zealand song from dub band Salmonella Dub, so there are lyrics, but not too many, and the groove is fabulous.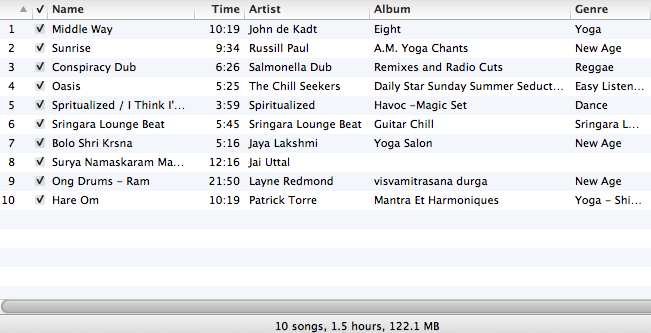 Saturday:
Fatboy Slim back-to-back with Krishna Das – gotta love it. It's a slow, spacious Fatboy Slim track though, with minimum lyrics. The fifteen minute Krishna Das track I choose because I wanted a long, inspiring track for doing an inspiring number of sun salutations. I used this playlist a lot in the lead up to Global Mala, getting people used to the idea of doing 108 sun salutations.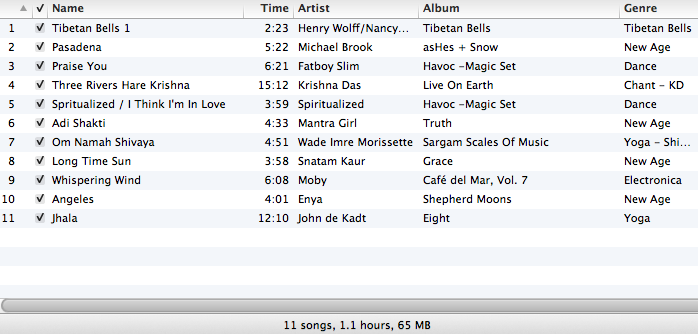 September:
There's something about this playlist that just calls to my heart. It has a sweetness and a lightness about it that makes it perfect for a back-bending class. There's also plenty of funk explored in a wide variety of ways. Leftfield rolling into DJ Food is just sublime.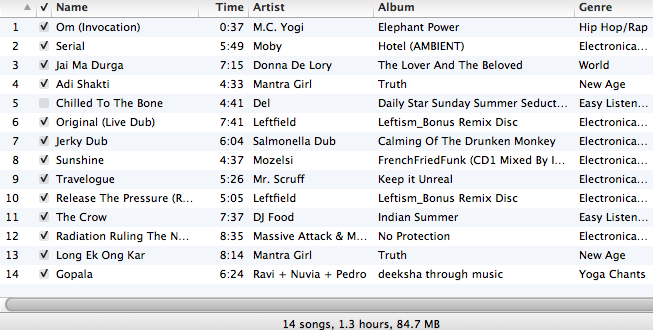 Earth Styles:
I created this playlist for an outdoor yoga event supporting the 360 Degrees movement – hence the song 'Politician' by Kiwi band Kora, calling on politicians to do the right thing. It's all about the earth, and the sunshine, and feeling the heart of this planet we live on.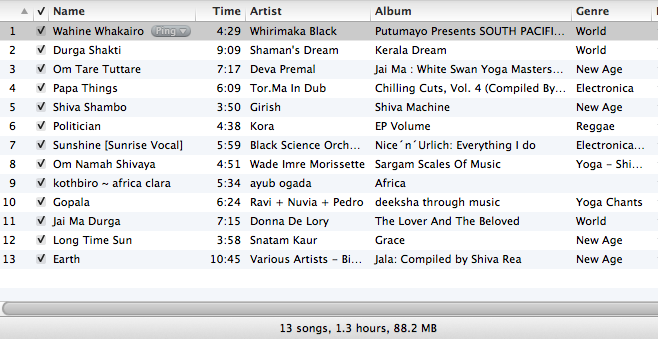 Yogalicious:
Another heart playlist, with a serious groove going on in the middle. I had love on the mind when I made this, but also the dance. The Fat Freddy's Drop song is long and fast. Depending on the class, I'll sometimes skip it. But at other times, it's just perfect. There's a few songs unnamed so you'll have to find something of your own to fill those gaps.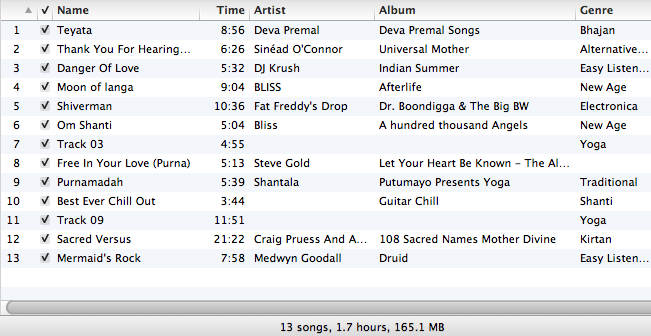 Tuesday:
My most recent playlist, one I made so I could include one of C.C. White's kirtan songs from her recent album 'This is Soul Kirtan'. Everything else just fit around that. It's groove, it's soul, it's kirtan, and it's even the blues.