I had never been to a 'proper' yoga workshop before despite I've practiced on and off since my teens. To start with I guess I thought yoga was cool, a bit hippy – I dug that.
As life went on I wanted and needed more yoga, but I wasn't sure where to find it. I was often overwhelmed, prone to the black dog, and scared of everyday life. I started to realise yoga was always there when I fell down.
I committed to my yoga practice and somehow found my way to an Off the Mat, Into the World workshop in Auckland in July.
Finding Direction
The workshop was titled 'Embody Your Purpose'.
I had high hopes.
"This weekend will not solve all your problems, this work is not a silver bullet," Marianne Elliott says with a twinkle in her eye, early on the first day. We all laughed, nervously.
Holy crap, I thought, what the hell am I doing here then? I came to this weekend for clarity and some direction and you say you can't give that to me. What can you give me?
And what Cate Peterson and Marianne proceeded to give me over the next two days was the tools to examine my life and myself in a compassionate way.
Accepting Myself
I've continually had times when I've got it all together and thought;
"Wahoo, I'm fixed! life is perfect, don't change a thing".
But I don't live in a vacuum, life will always change and inevitably when that changes has come, without self-compassion I have felt like a failure. I had become stuck on the path of self-improvement when I just needed to accept myself.
With guidance through the weekend I started look at these 'failures' in a different way.
Patterns became clear – a comfort zone had firmly established itself and my shortcomings had started to define me. But by accepting these aspects of myself rather than trying to change them, I could begin to be aware of them, observe them, sit with them, work with them and forge the path I know is right, not the one of least resistance.
Collaboration with the Enemy
I'm beginning to feel confident in sitting with those uncomfortable feelings, watching what they do and how they make me feel. In the past, big and small anxieties have created chaos inside and I had given in to it every time. Anything for an easy life.
Now, slowly, I recognise the strength I've gained from just getting through things. It hasn't always been with grace, instead, most of the time I've been forced to carry on. Looking back with compassion I can see I can do it, I can get through and I will, and am, becoming stronger.
I've fought my mind for most of my life and sometimes I've won battles and thought the war is over, the enemy defeated. Now I've come to realise I will never 'win'. There is no magic one-size-fits-all solution.
With an examined life there is attention, collaboration, understanding, compassion and then, there is peace.
I walked into this weekend ready to change the world and head in whatever direction my teachers pointed me in. Instead they told us stories, asked us questions, dried our tears, and pointed to our heads and our hearts to let us know the answers were in there.
Internal Navigation
Two months on, the 'post workshop buzz' is easing its way on. My mind still plays tricks on me without realising I'm wise to it now. I do stray from my path and I do sometimes feel completely set adrift, but, I sit and I stay the course.
What has changed is my own steady hand, guiding me through my troubled waters. I looked for it for a long time outside of myself, some sort of navigator to lead me the right way. Now I know, it's me. I can be troubled and I can be strong at the same time. I can question myself and provide my own answers.
The Off the Mat, Into the World Workshop may not have gifted me my freedom but it gave me some powerful tools to forge my path in this world.
This process is a way of finding your way back to yourself, to your core and what drives you and your passions. The only way you can create sustainable change in your heart and off your mat.
About Jen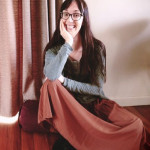 Jen Wilson is a student of yoga and a mum of two from sunny Torbay in Auckland, New Zealand.
Jen also is a volunteer with the Off The Mat, Into The World NZ Organising Committee.
Jen uses photography and yoga to find beauty in an everyday life. Follow her on Instagram here and Tumblr here.
One-day Yoga in Action Workshop
This workshop combines yoga postures, mindfulness techniques and experiential exercises with practical tools for getting clear on your purpose, your vision and your path. Be inspired to live a more purposeful, courageous and meaningful life. No previous yoga experience is required.
Soul Centre – Titirangi – Saturday 11th October – $120 (Four week $30 installment option)
Kawai Purapura – Albany – Sunday 12th October – $120 (Four week $30 installment option)
Wellington and Christchurch Workshops coming in November, dates and venues TBA.