by Kara-Leah Grant
Meet Daniel Aaron, one of the founders of Radiantly Alive, author, chocolatier, herbalist, Human Potential coach, and Yoga teacher.
He's going to be leading a Radiantly Alive Level 2 week-long Teacher Training at Mana Retreat this December.
Daniel was a self-proclaimed "lazy, fat, stiff" child who thought that yoga was for "pansies". When he finally did make it to class back in 1995, he was surprised to discover yoga was challenging not just physically but also intellectually.
Despite being the stiffest person in class for at least the first two years, Daniel stuck with the yoga. Somehow he knew that not only was the practice freeing his body, it was also freeing his mind.
Fast forward twenty years and Daniel now runs a powerful yoga teacher training based out of Bali called Radiantly Alive.
A natural born teacher and educator, Daniel makes it his mission to make the trainings as transformative and powerful as possible.
This comes with a disclaimer though, to weed out those who aren't up for this kind of training:
"While anyone could rise above their doubts, not everyone does. Our training is open to anyone willing to commit. No matter what your previous yoga or life experience – you must be ready to devote yourself 100% to the process and be ready to go beyond what's comfortable or easy. If you are mostly interested in a certification, enjoy complaining, or are picturing a leisurely yoga holiday, this isn't the training for you."
Join Daniel and I below as we discuss Daniel's yoga journey, the upcoming Radiantly Alive Level 2 teacher training in New Zealand, and the true origins of chocolate.
Daniel Aaron on Personal Transformation in Yoga Teacher Trainings
Click here to find out more about Radiantly Alive and their Yoga Teacher Trainings. 
On how he came to Yoga:
"I'd had some experiences that shook me up a bit, and coming out of that I was looking for how to get myself on track… and to generate some really positive health in myself."
On becoming a teacher:
"I'd had experience as a teacher, and as I started getting really into Yoga I had no interest at all in teaching yoga. Largely because I felt so inept."

"I wanted to not be the worst one in every class. I was overweight and very stiff and every class was embarrassing to me… I just wanted to get even close to competent."

"I'm very grateful for starting with so little skill and it being such an uphill battle for me. It gave me an ability to understand what it's like for people starting and beginning."
On teaching the teachers:
"We did our first retreat and first Yoga Teacher Training and really had no idea what was involved on a practical level… But somehow it came off…"
On how Radiantly Alive Yoga Teacher Trainings have evolved:
"We've deepened our skills in terms of how to facilitate transformation. Which I think is one of the key aspects of successfully training people to be teachers."
On what you'll get out of a Radiantly Alive teacher training:
"We want it to be a personal journey of transformation. What we want is for people to have the deepest most powerful experience of their own beauty and capability that they've ever had in their entire life."

"I always say to teachers in training "The ones who become the best teachers are the ones who are the best students."
On the upcoming Level 2 Teacher Training in New Zealand:
"If we as teachers aren't growing then our teaching becomes stagnant.. To feel most alive and thriving we have to be growing. We put a big emphasis on coming back to our growth as students."

"We do a lot of work on people's teaching… and find different ways of looking at their teaching, and challenging them with exercises that take us out of our comfort zone."

"Once we start teaching it's very seldom that we get any feedback or get any opportunities to look at ourselves from another perspective."
On his work with chocolate:
"We do serve chocolate almost every day on the training… It's a highlight of the training for me."
About Daniel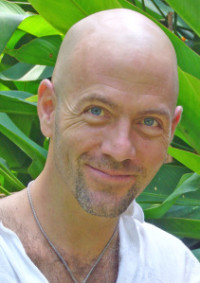 Founder and director of Radiantly Alive, Daniel Aaron, yogi, author, chocolatier, herbalist, perfumer and human potential coach, directs the Radiantly Alive Yoga Studio and Teacher Training in Bali.
He shares his passion for yoga, raw food nutrition and spiritual insight – and how to use them as potent tools to evoke our highest potential for health and happiness – guiding students to accept themselves fully and challenge their limitations. Daniel creates classes, environments and products that are eclectic, fun and inspiring.