by guest author Swami Neelmani
First, let us look at the word relationship. What does it mean?
A relationship is an association, a connection, a bond, an ongoing exchange, a link which occurs with ourselves, other people, nature, animals and objects.
There are a variety of things we can have relationships with in life.
In relationships we connect and interact with something or somebody else, through our mind, emotions, energy and actions.
Possibly the most challenging, confronting relationship which we sustain throughout our entire life; is the relationship with our self.
Every relationship is unique and we adjust and accommodate according to the requirements of each relationship. Different ways of interacting are experienced in life in our relationships with our mother, father, brother, sister, friend, enemy, lover, ex-lover, husband, wife, employer, employee, teacher, student, aunty, niece, uncle, nephew, doctor, patient, pets, our environment, emotions, thoughts, spiritual life and religion etc.
Through relationships we are able to express our unique qualities, attributes, ideas and aspects of ourselves with others.
We are born to interact with people and things around us, we are born to express, to be creative, to connect and experience the joys and sorrows of life.
It is through interaction that we grow and become more broad minded, accepting, appreciative, resourceful, caring, giving and compassionate. If we don't relate with life then we miss the opportunity for developing a deeper understanding of ourselves and others.
Without inter-relating we become stagnant, narrow minded, critical, judgemental, self-centred and stuck in our own little world which leads to depression, dullness and ultimately unhappiness.
Therefore we want to interact in a way which gives rise to growth and allows all parties to derive the best possible result from each relationship.
However, even when we have this intention often we find ourselves in very challenging situations and question our ability to have "good" relationships.
Particular types of relationships can be more confronting for each individual.
Some may struggle with the intimate lover connection; others may struggle with the mother, daughter, father or employer link. Through these connections we all have a variety of stimulating, thought provoking, interesting, perplexing interactions which we have to cognise, process, understand and integrate as we journey through life.
Sometimes in this process we come up against ongoing, intensely, overwhelming feelings inside and are so deeply affected by these experiences that we think:
 "This is too hard, I want out of this relationship".
So how do we deal with these challenges that arise in relationships? According to Yoga, we have to become aware.
There is that word again – aware – aware of what?
On the journey towards conscious relating, it is necessary to continually deepen our awareness of our thoughts, our actions and our feelings.
When we become aware, we become able to respond appropriately and we can begin to direct our expressions and interactions positively and purposefully. If we can bring clarity and understanding of ourselves into our relationships then a very different pattern emerges and we are able to be productive rather than destructive in our connections with others.
Naturally as we develop awareness of our patterns, we open ourselves up to choice and we decide if a complicated, draining type of relationship is worthwhile pursuing or not. It is important that we do not stay in abusive relationships, as they are too complex and damaging.
Relationships can be confronting and the closer we are to someone the more vulnerable and exposed we feel.
When we are positive, happy and at peace with the world and ourselves all is well. But when we are agitated, restless, angry, discontent, we definitely lose our equilibrium and can behave irrationality.
Our patterns can be constantly triggered by other people and situations and we can react and respond in very negative and detrimental ways. This causes all sorts of difficulties in our relationships, things are said which we regret, rifts are created, trust is broken and often it is hard to rebuild the connection.
A lot of the time disturbing interactions occur because of our narrow or conditioned mind which is not open to new ideas, different values or concepts; it is fixed in its own beliefs and thoughts, it defends its own position and reinforces the ego principle:
 "I am right you are wrong, it's your fault not mine, you are to blame, you did this, you did that!".
However, we can consciously change our way of connecting to others if we are able to free the mind of its limiting patterns and fixed behaviors.
We can draw on our humility and courage and study the self to develop a continuous awareness of what we are doing and why we are doing it. We can question our patterns and try to unravel the root cause of disturbing thoughts and emotions.
Instead of simply reacting to emotions and thoughts which arise we can begin to question whether they are true and appropriate in relation to the current situation.
Are we able to use our inner strength and tenacity and explore our patterns of behaviour or shall we continue to blame others? Can we explore our own mind and understand how different aspects of the mind interact with each other and then reflect into our actions?
We cannot change another person as they are also responding and reacting to their own internal patterns. But we can consciously work on ourselves and release our fears, phobias, complexes and propulsive patterns of behaviour (habits) which influence us and reflect into our relationships.
Each of us must become conscious of our own behaviour and relate with others through the light of self-awareness.
We can practice yoga and bring together our head (our intention), our heart (our sentiment) and our hands (our actions) and this will change the way we live for the better.
We will begin to feel a greater sense of connectedness to life as a whole 
and become naturally and spontaneously calmer, relaxed, creative and positive.
Our relationships will become fuller and more positive and when difficulties arise, we will be able to meet them with honesty, integrity, clarity, sincerity and lightness of heart.
About Swami Neelmani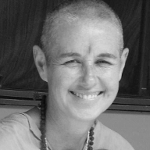 Swami Neelmani has been actively involved with Satyananda Yoga since the early '80s and continues her training in Sannyasa lifestyle and Yoga teaching through her connections with Swamji, the Teachings and Satyananda Ashrams and Yoga centres around the world.
With Guru's grace, Neelmani passes on her understanding of Hatha Yoga, Raja Yoga, Mantra Yoga, Kundalini Yoga and Ashram and Sannyasa lifestyles.
Swami Neelmani is currently teaching at Anahata Yoga Retreat, sharing her wisdom through the Yoga Wisdom Series with us. She will be there until the middle of December and would love to meet you.