by Kara-Leah Grant
Prior to this video interview, all I knew about Chaitanya Deva was that he and his wife Bex owned Kindred in Nelson, and that they ran Evolve Festival. And that they were preparing to launch their first teacher trainings this April.
Then Chai sent me an email giving some background information for this interview. Not only had he spent time with B. Prior, a 'world teacher utterly devoted to awakening', done the India thing, had his time as a punk rocker and a Jehovah's Witness… but his father was enlightened.
For real.
Now I haven't met a single person in my life who could claim an enlightened father. And I've met a LOT of people in my time of travelling, parties, bars, clubs, festivals, events and in the yoga world.
Yes, back in the 1990s, after years of seeking and searching, Chai's father Maitreya Ishwara began having a series of awakening experiences – three major ones that led to the penultimate experience of abiding non-duality. I won't say any more, because Chai does a damn good job of telling his own story in this interview. Suffice to say, talking to Chai was fascinating.
Kindred co-founder and principal yoga instructor Chaitanya Deva and Team are offering a 200-hour Yoga Teacher Training program.
This 17-day programme covers the 'Eight Limbs of Yoga' and includes:
Participation in two studio yoga classes each day
A theory session each morning (when the brain is at its best)
A practical session, learning how to teach the fundamental asanas each afternoon (when the body is warm and flexible)
A series of workshops (self esteem, anatomy, philosophy etc).
Participation will cultivate your ability to become an inspiring and skilled teacher and deepen your own practice. The program is a life-changing opportunity to completely immerse yourself in a daily yoga practice, connect with like-minded people and to deepen your knowledge of anatomy, history and philosophy of yoga and, ultimately, yourself.
Participants from all over New Zealand are invited – with cheap flights from Auckland and Wellington (or easy drive from Christchurch) making sunny Nelson very accessible.
Breakfast and dinner is included in the price. We can assist you with finding affordable accommodation.
Investment: Earlybird (before 1 March) is $2,850 / $3200 standard
For more information about the Teacher Training click here
Chai on his immersion in meditation and spiritual practice in India:
"I spent a year and a half meditating between four and sixteen hours a day, doing really intensive work."

"When you're with an enlightened teacher the energy moves so rapidly… when you're doing four plus hours a day [of meditation] you're in hell, and then heaven, and then hell. There's no middle man, it's just you and your demons."

"When I was travelling to work on the tube I'd sit there in silence doing these body scans… I incorporated it into my secular life."
On his introduction to Yoga:
"I could barely touch my knees. I was incredibly stiff.. .I learnt about the importance of technique and how just a little bit of perseverance can shift things really quickly in a tight body."

"When I did my Yoga Teacher Training… the thing that really came through for me was my sense of humour. It was one of the last bits of rigidity I held. I'd become a bit serious as a mediator and I was still really really shy… In that Yoga Teacher Training I found my voice and my expression, and this really playful sense of humour."
On romantic love & the modern Tantric teachings of B Prior:
"What our relationship was really founded on was the honoring of the feminine as love and the masculine as consciousness, and bringing those dynamics together."
On the foundations of Kindred & Evolve Festival:
"Because of the depth of my journey I feel that I can really take the mickey out of it."
On the role of Self-esteem in Kindred's Yoga Teacher Training:
"In this Teacher Training we'll go through and identify what your mind actually says behind the scenes… See the crap, identify it, tell the truth, be free from it."

"I am enough as I am. I am who I am. I am enough as I am."

"It's an intense journey, this immersion that we're going to share together…. There's a real authenticity that comes through… that creates some way of sharing and community that's really special in this world."
About Chaitanya: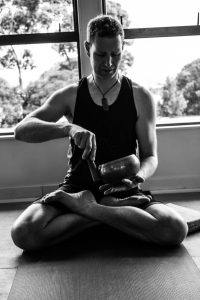 Chaitanya vividly remembers the night of his awakening. It was the first full moon of 1995 and he was mid-way through a six-month pilgrimage in Poona, India. Chai was already dedicated to a daily practice, meditating up to 10 hours a day, but it wasn't until that night, as the moonlight dripped through the banyan trees, that he finally felt the power of the witness within him. Something switched inside and life was never the same again. He walked in and out of 'satori' for the next three months, before returning to the UK. Pilgrimages to India from the UK continued for the next four years. In 2000, he moved back to New Zealand. Around this time, he he started practicing Ashtanga yoga, worked as a Reiki Master completed a Diploma in Therapeutic Massage and undertook yoga teacher training at Hot Yoga Nelson in 2008. He completed an additional 300 hours of teacher training at Purna Yoga Byron Bay in 2015. Together with his wife Bex, Chai owns Studio Kindred Nelson and runs the transformational festival, Evolve, at Founders Park.