by Lucinda Staniland
Every yoga teacher brings a unique constellation of skills, interest and life history to their teaching practice, and Wellington yoga teacher Cathy Gamba is no exception.
Cathy's on her way to becoming a clinical psychologist, has deep roots in the practice of mindfulness and is acutely aware of the connection between physical health and mental health.
She's also French, and is stoked to be teaching an upcoming yoga retreat in New Caledonia, a French-speaking Pacific island that is said to be "as French as Provence."
In this interview with Cathy, I was cheered to hear that she doesn't expect retreat participants to follow all her instructions to a T, rather she hopes to enable them to recharge their batteries and find deep rest, in whatever way is appropriate for them.
I get the impression that this kind and accessible approach is just one example of the grounded and intelligent perspective that informs Cathy's teaching.
1. How did Yoga find you? And how did Teaching find you?
I'm not sure Yoga or Teaching found me, it was just an opportunity that I took. There have been several times in my life when I have had the opportunity to teach other people… I started in Japan teaching French to Japanese native speakers when I worked there for a wee while from 2001 to 2003. Then in Wellington, I also got the opportunity to teach French at the French Alliance. Later on, I taught spin classes at the City Fitness gym club in Thorndon.
I used to trail run a lot and then I had to reassess my passion as my body didn't agree with running anymore. So in 2003, I started Yoga with the Ashtanga style in Switzerland and then Bikram Yoga in 2004. When I got pregnant with my baby girl Mia, I really enjoyed practicing yoga even more and started to practice Vinyasa flow and hot yoga, that was in 2010. It made sense then that I start a teacher training so when my second baby, Amandine, came along, I decided to become a teacher. I took her to Byron Bay when she was 5 weeks old and she did part of the teacher training with me in 2013. I was still breastfeeding at the time, it was quite special and a bit crazy too.
2. What guides or inspires the way you teach?
I try to make my teaching as inclusive and as accessible as possible to everyone. I don't connect with any spirituality or any kind of religion and I don't Om either.
I am passionate about anatomy and mindfulness, so when I teach I do my best to allow students to develop more body awareness. I do this by being as precise as possible in my cueing. When I give alignment cues, I do it from a place of understanding it in my own body so that students can feel it too. I also hope I can get students to be present for a breath or two…or more. This is where mindfulness and pranayama (breathing) have a key role in my teaching.
I guess to answer your question, I get really inspired by people who are passionate about what they do, I love when there is a pace to the class, it helps me connect with my breath. I need to trust the teacher I practice with so I can just follow and tune in without being distracted by any internal dialogues I might have with myself, the teacher or other people in the room. I hope this is the kind of experience I can give to my students.
I trained and still train with Tiffany Cruikshank from Yoga Medicine – I am definitely inspired by her teaching, her knowledge and the fact that she is not affected by her fame, she is a very down to earth person.
3. What is Yoga about now for you, compared to what it was about, say, five or ten years ago?
On a physical level, Yoga for me is about developing more body awareness and educating myself about how my body functions. On a mental level, it is about learning a few tools to be able to deal with myself a bit better.
Yoga, as well as most of the things we do in life, is connected to where we are at in our life. I am studying Psychology to become a clinical psychologist so I guess that I am very much interested in the mindfulness aspect of yoga now – a lot more than I was, say, 10 years ago. I also am a mother and am in my 40's now so my interests have evolved over time. But in saying that, I also find that I am now stronger than I have ever been before – I don't know if it's yoga or all the running around after my children. Yoga definitely helps me to move with a lot more ease.
4. What's your biggest challenge with Yoga practice or teaching right now?
I am going to sound like a dick but I don't think there are any. I guess I am constantly learning and practicing so I am aware that it is a never ending road and I'm ok with that. What I struggle with the most is maintaining a good balance between work, my family life, my love life, studying and my free time.
I have always wanted to visit New Caledonia – I am French. When the team at Williment Travel mentioned it, I thought it would be a wonderful idea. The great thing about New Caledonia is that it is so close to NZ and it is warm! I love being warm. Also being able to experience a bit of French culture so close to NZ is a bonus
6. What kind of experience do you like to give people on retreat?
I hope I can allow people to recharge their batteries. What is important to me is that at the end of the retreat, they feel that they truly have had some special time for themselves.
It is hard to make time for yourself most of the time, so I want people to feel that this is their special time spent in a spectacular setting. They are welcome to follow my instructions if they like but ultimately, it is all about them so if they don't feel like going to yoga or do a particular exercise or pose one day (or every day), that is more than fine.
I put a real emphasis on mindfulness practice in my teaching and hopefully will be able to give people a few tools that they can take home with them.
7. How does nature inform your yoga teaching? Does it?
Being outdoors is, in my opinion, one of the best things you can do for yourself. We designed our yoga studio in Days Bay in such a way that students feel they are part of nature. The vision was to allow practitioners to feel recharged just by looking out at the Beech trees overlooking the Bays. Being in nature instantly reconnects you with life and with the present moment.
I often offer mindfulness of sounds practices at the studio – which I will offer as well in New Caledonia. When we do it at the studio, it is wonderful as you can hear the Tuis and the Kererus, the cicadas as well as people jumping off the wharf in summer. Nature is a big part of my life and I hope everyone's life. You can practice mindfulness, yoga or meditate just by going for a walk outdoors. You can do this just by sipping your tea or beer outside with your friends on your deck or sitting in Lyall Bay on the beach – ultimately you can do it at your desk or when you fold the washing over and over again…
8. In your Yoga Connection interview, you mentioned really getting into mindfulness off the mat. What does this look like in your life and why is it important to you?
Mindfulness is a huge part of my life now – I guess it has always been in a way but I didn't have a name for it before. Mindfulness as Jon-Kabat Zinn describes it is "paying attention in a particular way: on purpose, in the present moment and non-judgementally."
Why is it important to me? Well, it is quite simple, it is because it is about living my life as if it really mattered, moment by moment by moment by moment. I do believe that we are not destined to respond the same way emotionally to the same old triggers and that with a little mind training, we can chart new pathways. With neuroplasticity, I strongly believe that you can change how you respond emotionally to the ups and downs of life. And this is where I think it links to the practice of meditation in yoga.
What does it look like in my life? It is embedded in everything I do. Whether it is being with my children, paragliding or folding the washing, I am better at enjoying whatever life has to offer.
As a mother, and I'm sure a lot of mothers can relate to this, I have this constant struggle of having to be everything for everyone and also making time for myself to recharge. Because I'm also slightly hyperactive – and some of my friends will laugh at the use of the word "slightly", I tend to thrive on piling up a lot more things into my schedule.
Mindfulness allows me to choose to take on less and also drop into the being mode instantly and come back to my senses especially when things spin out of control. When I feel like crying because I fail at being the perfect mother I hope I can be, I can get some kind of perspective and tell myself that I'm doing the best I can and that it's ok. I can manage the negative self-talk a lot better than I used to.
9. You're studying to become a clinical psychologist. How is this informing your yoga teaching?
I find there is a strong connection between mental health and physical health. Yoga is a great vehicle to develop more body and mind awareness. I'm hoping I can give practitioners some good mindfulness tools to take home with them alongside with a sense of better body awareness. Empowering students is key in any teaching.
The long-term plan is to open a wellness centre on the Tinakori hills of Wellington. The idea is to have a one-stop shop where practitioners can have access to specialists such as psychologists, GP's, nutritionists, osteopaths and other specialists. The wellness centre will also feature a beautiful yoga room as well as a meditation space nestled in the middle of the bush overlooking the harbour. This space will be a getaway right in the middle of the CBD for people to recharge their batteries. Let's say you need to see your GP for chronic pain, you will be then assessed and followed by our team of specialists. The consultation will also include mindfulness practice, meditation and yoga.
10. Where and with whom would you most like to go on retreat?
I'll be happy just going by myself. I would go anywhere warm.
A handy 3-hour flight from Auckland, New Caledonia is almost as 'French' as Provence! Escape New Zealand's winter and join Williment's Yoga en Francais retreat for four nights of luxury living, tropical sunshine, mindful yoga practice with Cathy and the chance to fill up on delicious French cuisine. All levels of yoga experience are welcome. Four nights from just $1,550pp + flights.
Interested in more Williment Travel Yoga Retreats? Check out another fantastic retreat they are running in 2018 in magic Myanmar.
About Cathy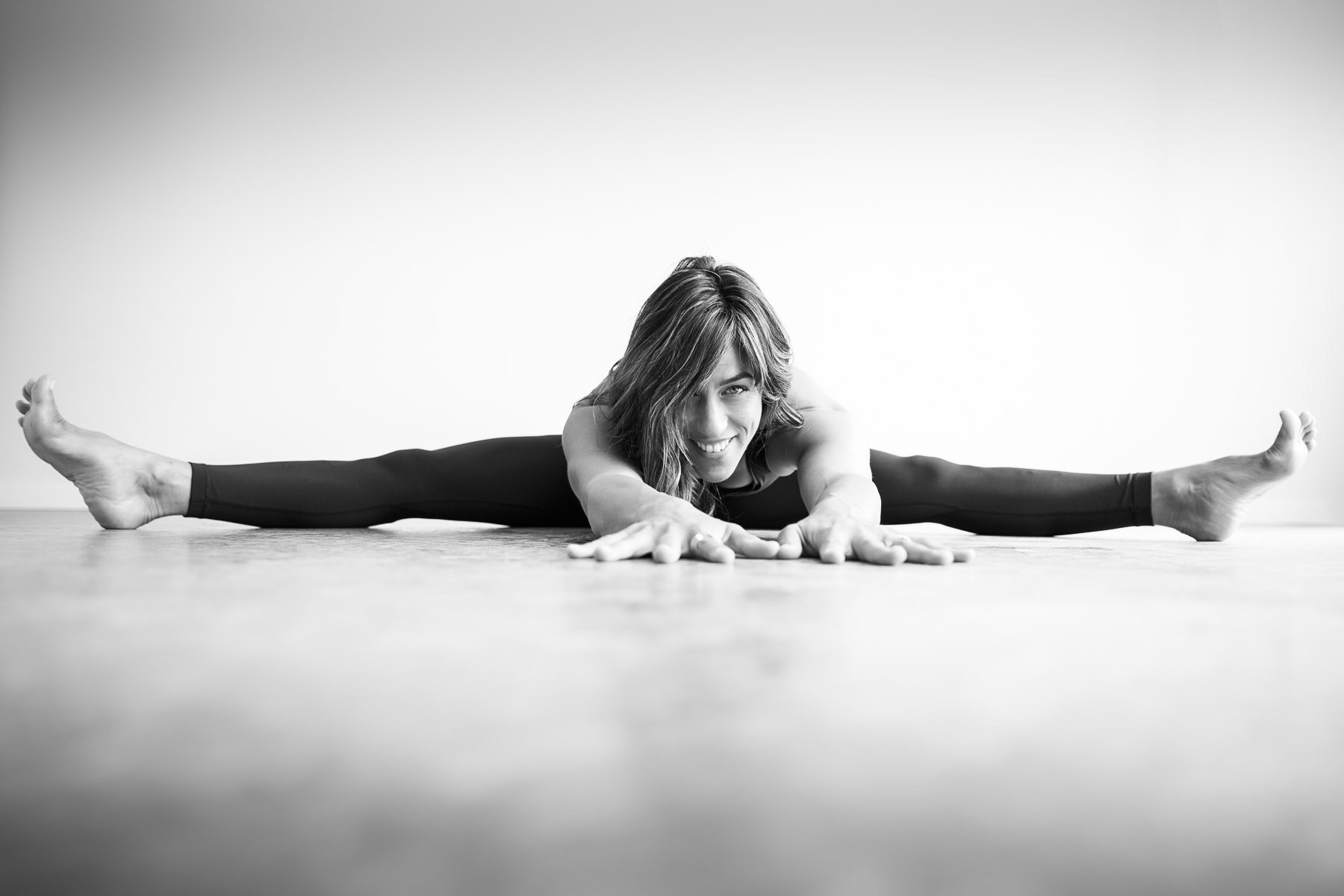 Cathy is a mother of two young girls and a student in Psychology. She worked in marketing and communications for about 15 years in NZ, Japan, Switzerland and France before openingPause Yoga in Days Bay in 2014. She describes herself as a fidgety and slightly hyperactive individual with a huge appetite for life and adventure. Trail-running was her hobby for about 10 years until, in 2009, she had to have surgery on her back to fix several prolapsed discs. She started yoga in 2004 and trained to become a yoga teacher in 2012. There are two main areas of focus in her teaching: these are anatomy and mindfulness. She is currently training with Tiffany Cruikshank from yoga medicine and is also studying at Victoria University to complete a degree in Psychology.  Her teaching style is athletic, therapeutic, secular and modern.