by Kara-Leah Grant
This was… an interesting interview.
Cameron Shayne doesn't like to be pinned down on much. Don't call him a yoga teacher, don't put him in any kind of box, forget about labels.
Who is Cameron then, beyond labels and boxes and yoga teaching?
He's an artist, first and foremost, and man who says he's looking at the abstract within life and playing the trickster. He's a button pusher, that's for sure.
Yoga teachers and students? Two consenting adults wanting to have sex? Let them decide, no rules necessary.
That was the gist of an article he wrote last September, which inflamed the yoga community – or at least those who choose to comment or write a response on their own blog. (Those articles are listed underneath the interview.)
This is a hot topic – power, sex, ethics and the teacher/student relationship. The difficulty lies not in determining what is right or wrong but in our ability to communicate with each other when these buttons are being pushed.
I found Cameron's original article muddy and difficult to read – he wasn't clear. As a result, it's easy to grab one aspect of his rhetoric and riff on that without taking in the entire scope of where he's coming from.
That was why my intention going into this interview with Cameron was to let him speak, and to listen to what he had to say, with no judgement on whether he was right or wrong.
I wanted to understand where he was coming from, where his blind spots might be, and what might be prompting his thoughts on yoga teachers, students, dating and sex.
Post-interview, and after watching it again, I feel like I do have a solid understanding. However, I'm not going to share it with you – at least, not now. I'd like you to watch the interview and make up your own mind about where Cameron is coming from.
I invite you to watch this interview and listen – truly listen – to what Cameron has to say, and how he says it.
I also invite you to observe your own reactions during the interview.
Is it possible to watch with an open mind and receive what Cameron is saying without judging it as this or that?
Is it possible to watch not seeking to decide who is right or wrong, but rather seeking to understand?
Is it possible to accept the person without accepting what he's saying?
More on this topic to come, in a follow-up article. For now, a quote from Cameron, and the interview.
 "The teacher is as responsible for understanding the dynamic of the potential relationships as the student is. This is not about removing accountability but about the right to choose." ~ Cameron Shayne
An interview with Cameron Shayne on Yoga, Sex and the Teacher/Student Relationship
About Cameron Shayne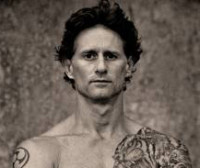 Guru Killer, Primate Provocateur, Literary Warrior & Liberated Thinker  
Cameron Shayne is sometimes identified as an artist, writer, innovator, movement pioneer, people liberator, father, virgin saint, voyager of the unknown, and bullshit exorcist. His current identity was founded 1971. He founded the Budokon University in 2001. His students include artists, olympians, movie stars, rock stars, prostitutes and sinners. He travels the world sharing the same message;
"Why take your thoughts so seriously? They're not even real."
The Articles from Last September
Editor's Note April 28:
This line has been removed from the article because after going back and re-reading all of Cameron's responses to the comments on his original article, I only found one response that I would call mean.
"Nor do I think he was particularly skilful in his handling of comments, many of which were judgemental, suggesting that this is as much a trigger situation for him as it is for others."
I have a low sensitivity for meanness, even when it's funny, and after reading through all of Cameron's other thoughtful responses I see how that one response coloured my impression of Cameron's handling of the comments.
In fact, after reading all Cameron's responses, I'm bewildered as to how I had such a strong impression from just one comment. It points to the way our minds filter information – glomming on to some aspects and not even seeing others.