At the beginning of this year, I chose love and moved to Costa Rica (from NZ) to be with my partner. In doing so, I left everything I knew behind. Work, family, friends, culture.
I have found it hard making the changes. Everything is different. Even on my best days, the smallest things can piss me off or make me miss home. Most of the time I can't even work out what it is that is so difficult.
I have a suspicion that whatever it is, it lies within me, rather than in my external world.
For about the past five years, I have turned to yoga to help maintain my sanity. I started after having anxiety and being unable to sleep and I carried on as it gave me room to breathe, away from the constant thrashing of thoughts in my head.
I've tried lots of different types – Hot, Bikram, Anusara, plus the classes that are just called 'yoga', but never been particularly 'good' at it. I've just kept going as I've felt its helpful effects on my mind and helped me feel more 'in' my body.
Coming to a new country, being in a new place with a new partner and no job, family or friends, yoga seemed like a good response to try and find some balance in this uncertainty.
So, two weeks ago, I started going to an Ashtanga yoga studio.
I didn't really know what to expect. I knew from a friend that Ashtanga yoga practices a set order of asanas. She also told me about the 'Mysore' practice, where each student goes through their own practice while the teacher goes around the room providing adjustments. My friend said this was amazing, but I couldn't quite imagine it.
Sri K. Pattabhi Jois established his yoga centre in Mysore, India in 1948 and is credited for contributing to bringing yoga to the West.
But Ashtanga is a bit different to perhaps what most of us are used to. With its set sequences and six day a week practice, Ashtanga is a yoga that demands commitment and discipline. It also has an important focus on lineage – preserving yoga as it was taught before along with the ability to identify your yoga genealogy all the way back to the yoga teachers of the olden days.
On the first day, I arrive at the studio early and wait for others to show up. When we go up to the practicing space, the devotion is obvious. Photos of Sri K. Pattabhi Jois are everywhere, as well as beautiful Indian statues, Buddha heads and quotes from various yogic sources. I know they say that all you need to practice yoga is your body, but this space is designed to make it a little easier to bring your mind along, too.
We start with an intro to yoga philosophy class. Something a bit different about this studio from others I have attended is that yoga philosophy classes are a requirement to joining the studio. Although I have enjoyed classes that speak philosophically, I haven't learnt much specifically about yoga philosophy. It's nice to go deeper into the practice.
I stay after the philosophy class for my first ever Mysore class. I know nothing about what to do, but the teacher reassures me that it will be fine and he will teach me the sequence, called the Primary series.
I've heard that this sequence is supposed to be cleansing – helping to get rid of toxins and bad alignment.
We don't get very far. I'm ashamed to say that after years of practice, I haven't memorised sun salutations. I guess that is what happens when you rely on teachers and don't have a home practice. So I spend most of the class doing sun salutations and trying to stop myself from flopping to the floor from chaturanga.
I reach a point where my response to the difficulty turns from silent laughter into tears and I am struggling to complete what the teacher has set for me. I battle my thoughts – don't I look pathetic? I mean, come on, sun salutations are hard for me?! Everyone else is doing amazing flippy flying tricks.
The end of the class comes and I am grateful that it is over. I remind myself that I wanted the challenge and that it will be something I have to commit to long term to see change.
In my second class, I meet the owner of the studio, Mariela. She is the only person in Costa Rica and was the third Latin American to be authorised by Sri K. Pattabhi Jois to teach Ashtanga. She is a petite woman but radiates absolute strength. She is a straight talker and while telling us about an Ashtanga conference she recently went to, she warns us that 'yoga ruins your life'.
She says it breaks you down – all of your habits and patterns of thought, so you can rebuild again. She cautions that yoga does not just bring happiness. It brings pain, discomfort, challenge. It is hard.
But it is worth it as it enables us to live in the real world in a healthy way. That Ashtanga teaches us to find comfort in uncomfortableness. This idea is echoed by yoga author Maehle Gregor, who explains that our experiences and thoughts are stored in the body and that yoga helps to deal with and remove the physical remnants that no longer serves us.
I like this idea. Particularly in this moment I have a lot of baggage that I would really like to get rid of.
I cry a lot in Mariela's class. It's an alineation class, which allows students to try new poses and take things to a new level, without going through the whole sequence. Since I am new, I know nothing and it is hard to not compare myself to the others in the class. I am not exactly sure of why I am crying, but something is triggering me – maybe feelings of inadequacy. At the end in shavasana I can barely hide my sobs. I try to breathe through, but it doesn't help and I end up more choked up. I pray that no one notices.
At the end of the class, Mariela asks each student to give me something – a wish for me, something to welcome me to the studio and carry me through my practice. It's beautiful; people offer me various qualities, strength, peace, compassion. But the one that stands out for me is what Mariela gives me – self-forgiveness. I can already sense that I am going to need a lot of that.
The rest of the week and the next go ok, but I am constantly dealing with my desire to be better. As a beginner in this style, I try to bring with me a beginner's mind.
Vinyasa – the connection of the breath to the movement of the asana – is the foundation of this practice, and something that I've never been very good at. The third crucial part of Ashtanga is drishti – focussing the mind on a particular place at each moment of the practice. The idea is to stop your mind from wandering, although for me it is going to take some getting used to.
I'm constantly having to remind myself to not stare at the others and their amazing yoga stunts and instead focus internally on my own practice.
There are things that get in the way of this new commitment to practice. My mind is certainly the biggest block for me. My worst nightmare postures are present in every class – headstand and handstand. I feel embarrassed by my lack of skill and strength to carry out these postures especially.
I can't go through a whole class doing full chaturangas, nor any of the 'flying' connections that link the asanas and vinyasas. I am challenged mentally and physically, and it isn't uncommon for my brain to be telling me during practice that this will be my last class because "this is just too hard and I won't get better".
At the end of each class, I remind myself that difficulty is not a bad thing. I have a tendency to avoid things I know I will fail at, but am purposefully directing myself to this. I am accepting failure and still continuing, where I know I will fail until I try and try and try again.
This new practice is teaching me about accepting where I am, right now, especially in the moments that I do not enjoy so much.
After all, this practice isn't just about what's there for me on the mat – it is about searching for a deeper connection and understanding of myself. I am sure it is going to affect me as Mariela warned, and I am ready for it.
About Pip: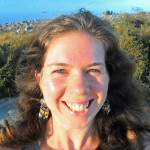 Pip Bennett is a consultant currently based in Costa Rica. Her background is in youth participation and women's rights and she is also passionate about yoga, connection and stories.
She has just started to develop her own venture called cookingwithpip.com, which aims to support and link together fellow community development workers, bringing them together to celebrate themselves, each other, and innovative ways of working.