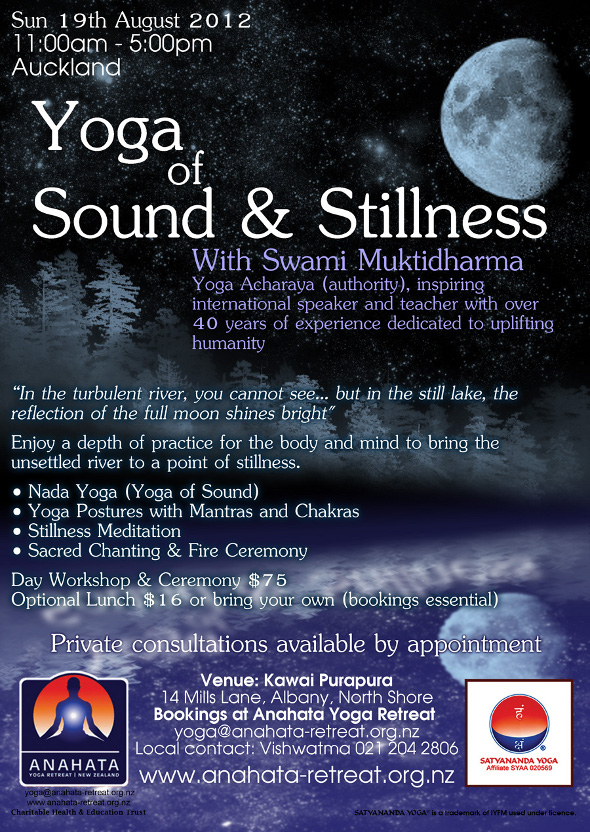 Yoga of Sound & Stillness, a Yoga Workshop with Swami Muktidharma
Enjoy a depth of practice for the body and mind to bring the unsettled river to a point of stillness.
Join Swami Muktidharma, Yoga Acharaya (authority), inspiring international speaker and teacher with over 40 years of experience dedicated to uplifting humanity
"In the turbulent river, you cannot see… but in the still lake, the reflection of the full moon shines bright"
Nada Yoga (yoga of sound)
Yoga postures with mantras and chakras
Stillness meditation
Sacred chanting & fire ritual
This transformational workshop explores powerful yoga tools to gradually bring the Self into inner stillness. Utilizing asana (hatha yoga), pranayama (breathing techniques), meditation and sound to develop tools to move towards clarity.
Nada Yoga utilizes techniques based on different sounds to bring the consciousness to the finest vibrational rate and eventually beyond vibration. Sound and music is considered also to play the role as a potential medium to achieve a deeper unity with both the outer and inner cosmos.
Investment:
Day workshop & Ceremony $75
Satyananda Teachers & Initiates discount available – enquire within.
Optional Lunch $16 or bring your own (booking essential)
Private Sessions available by appointment:
A unique opportunity to receive practices and insights to suit your personality, body type, health challenges and get direction or a personal program, therapeutic applications and health consultations according to your needs.
30min NZ$55
60min NZ$95
90min NZ$120
Venue: Kawai Purapura
14 Mills Lane, Albany, North Shore
Bookings at Anahata Yoga Retreat
E-mail
Local contact: Vishwatma 021 204 2806