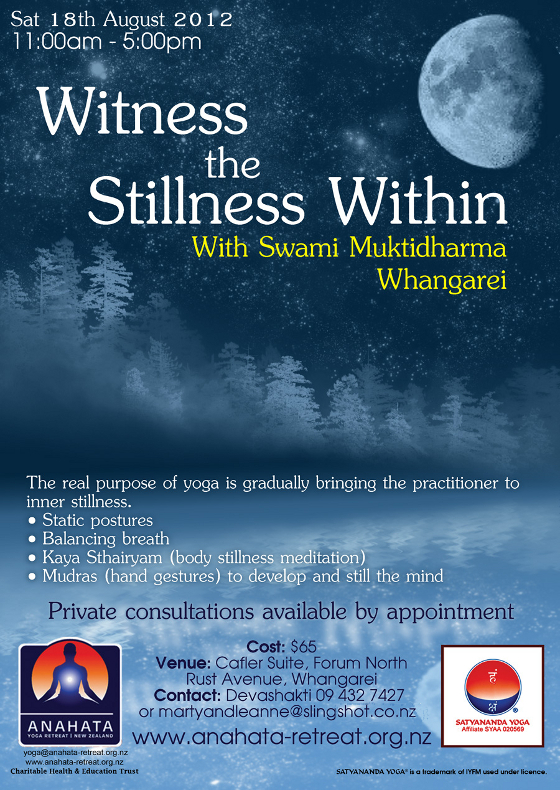 Stillness – The Gate to Inner Experience, a Yoga Workshop with Swami Muktidharma
In a restless river, the reflection is blurred, then with the right techniques the lake settles into stillness, everything becomes crystal clear.
This transformational workshop explores powerful yoga tools to gradually bring the Self into inner stillness.
Developing the Witness (Antar Mouna-Inner Silence)
Become an observer of the mind and its "antics" rather than getting all tangled up in its web.
Learn the practice of inner silence, a yogic meditation technique, to free yourself and discover the gifts of Stillness that lie in your inner depth.
Includes:
Static postures
Balancing breath
Kaya Sthairyam (body stillness meditation)
Mudras (hand gestures) to develop and still the mind
When: 11:00am – 5:00pm
Investment: $65
Venue: Cafler Suite, Forum North
Rust Avenue, Whangarei
Private Yoga Sessions with Swami Muktidharma available by appointment:
A unique opportunity to receive practices and insights to suit your personality, body type, health challenges and get direction or a personal program, therapeutic applications and health consultations according to your needs.
30min NZ$55
60min NZ$95
90min NZ$120
Contact: Devashakti
(09) 432 7427 or send an email.