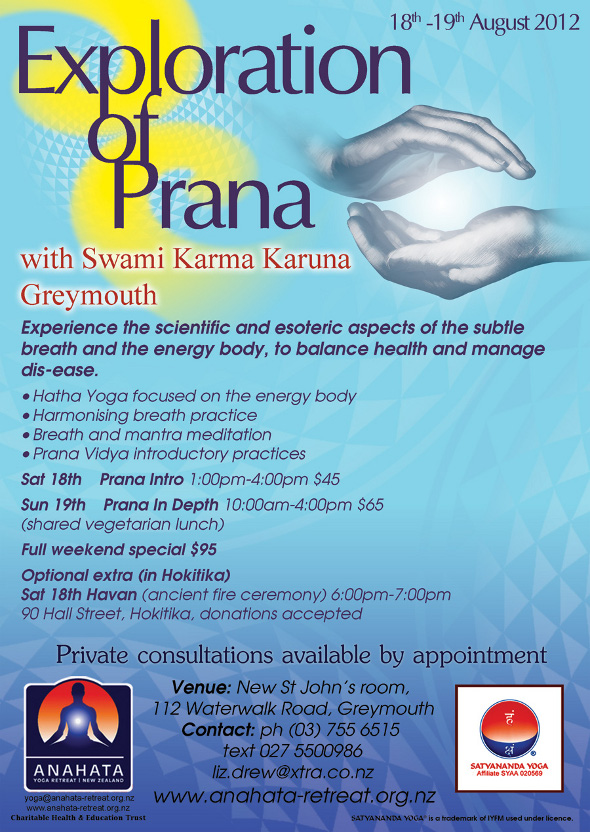 Exploration of Prana, a Yoga Workshop with Swami Karma Karuna
Experience the scientific and esoteric aspects of the subtle breath and the energy body, to balance health and manage dis-ease.
In yoga, the koshas refer to subtle dimensions of being that can be used for personal evolvement. Pranamaya kosha is the energetic field that exists within the physical body and awakens the vital energy within, invoking the feeling of aliveness.
Experience the scientific and esoteric aspects of the subtle breath and the energy body, including practical techniques for powerful awakening of the energetic fields as an introduction to Prana Vidya (knowledge of energy). Learn the different pranas that pervade the body, how they function and how we can improve them for better health.
Awaken your perception of prana & energetic fields
Balance health and manage dis-ease
Hatha Yoga focused on the energy body
Harmonising pranayama practice
Breath and mantra meditation
Prana Vidya introductory practices
Sat 18th Prana Intro 1:00pm-4:00pm
Cost: $45
Sun 19th Prana In Depth 10:00am-4:00pm
Cost:$65
(Lunch – please bring a vegetarian dish to share)
Full weekend special $95
Venue: New St John's room, 112 Waterwalk Road, Greymouth
Optional extra (in Hokitika)
Sat 18th Havan (ancient fire ceremony) 6:00pm-7:00pm
In this beautiful ancient vedic practice the element fire is invoked. With the use of special herbs, ghee and the power of mantra, this powerful ceremony is performed to transform and purify the environment and the people who take part in it.
Venue: 90 Hall Street, Hokitika – donations accepted
Private Yoga Sessions with Swami Karma Karuna available by appointment:
A unique opportunity to receive practices and insights to suit your personality, body type, health challenges and get direction or a personal program, therapeutic applications and health consultations according to your needs.
30min NZ$55
60min NZ$95
90min NZ$120
Contact:
ph (03) 755 6515 or text 027 5500986  or e-mail