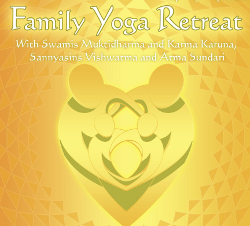 Come together in a light hearted environment for individual, partner and family yoga fun!
Yoga is like planting seeds of positivity that will sprout in future generations.
Join Swamis Muktidharma and Karma Karuna for this much loved retreat for all ages, which provides the perfect setting to come together and experience heart warming fun. The picturesque natural environment of Anahata allows a return to simple pleasures and encourages the spontaneous and natural childlike qualities in everyone. Enjoy nature walks, arts and crafts sessions, specifically designed yoga classes for children as well as adults, soothing relaxation sessions and musical expression.
Yoga provides tools for children to develop focus, become better balanced (internally and externally), develop coordination and flexibility, and learn to channel their energy creatively.
This playful retreat is open to extended family members and caregivers too!  No yoga experience is required, just a willingness to have fun. ♥
Investment:
NZ$330 1st Adult
NZ$165 2nd Adult
NZ$125 Youth (5 – 17yrs)
No charge for kids under the age of 5yrs
Above includes 3 nights shared accommodation, all meals & programmes
Non-refundable deposit of $100 required to secure your place.
Day option available on Sunday!
NZ$70 Adults
NZ$30 Youth (5 – 17yrs)
No charge for kids under the age of 5yrs
Family package special for 2 adults and 2 children – NZ$150
10am – 6:30pm (includes lunch)
Bookings & Information:
Email or phone us (03) 525 9887