by Kara-Leah Grant
Camilla Maling is a fascinating woman with a deep perspective on our embodied experience as sensate beings, honed through her many years of dance, yoga, storytelling and life experience. She's endlessly fascinated about the intersection of our being – our psyches and our bodies and how these things map to each other.
Spend time talking to her – as I did – and you can feel her passion and curiosity and desire to expand people's understanding of the body they inhabit. She plays in the space where our experiences and stories and past become who we are, where our psyche is written into our cells. Which then means we can access and release and clear out our past through our embodied experience.
Camilla trained initially with Sadie Nardini, many years ago, and then dove deep into the world of Anusara as it was exploding in London. She moved to Melbourne, and opened The Yoga Lab where she now teaches.
Read more about her latest offering,Adventures in the Field below.
Camilla Maling on Adventures in the Field
Camilla is facilitating Adventures in the Field at Urban Yoga in Wellington, August 19 – 21. Adventures In The Field™ is the uncovering of an embodied, spatial philosophy. It is an inter-disciplinary, deeply therapeutic rich research space and an opportunity to play in the landscape of you. You are the field – get ready to take an embodiment adventure where you will learn how to cultivate and sync up your knowing – psyche, soma & experiential.
About Camilla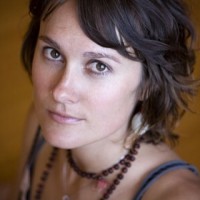 As all good Embodiment Inquisitors, Camilla has many strings to her bow and she isn't afraid to play out of tune! She is a multi-disciplinary movement practitioner, educator & therapist. She is founder & Director of The Yoga Lab Melbourne and co-creator of The WonderLab Project. 
 
Movement is a long time love. Camilla has danced for as long as she can remember and still does, especially with her two little children, Stella & Taylor. She has been teaching yoga & movement around the world since 2005.
Her previous career as an arts journalist and radio documentary maker in Australasia, was the foundation of Camilla's work as a producer, sound designer and storyteller. Connect with Camilla on The Yoga Lab website.