by Kara-Leah Grant
Meet Daniel Scott, self proclaimed yogi provocateur, Acro-yoga teacher and owner of one enviable moustache.
Based in Los Angeles, he is another of the talented and charismatic teachers who will be taking the stage at Wanderlust 2015 in New Zealand and Australia.
Daniel's speciality is acro-yoga, and he promises to teach you how to fly.
Not only will you catch him at Wanderlust New Zealand January  29 – February first and Wanderlust Australia February 20 – 22 but he'll also be teaching a smattering of workshops across both countries (see the bottom of the article for details.)
You can see his Wanderlust NZ schedule here.
You can see his Wanderlust Australia schedule here.
In this video interview hear Daniel divulge the following juicy tidbits:
On how and when he came to yoga:
"Like many heterosexual male athletes living in their mid-twenties I started yoga because of a girl."
On Acroyoga:
"What really grabbed me was one, the ability to allow myself to let go… The second thing was, I was able to do things in the first class that I thought I would never be able to do."

"Yoga does not always have to happen in a studio on a mat. It can be anywhere. It can be anything."
On whether anyone do Acroyoga:
"You're feeling too big? I guarantee you're not too big. You're feeling too small? I guarantee you're not too small."
On his classes at Wanderlust, including the 'Average Joe' class:
"I don't always want to teach to yogis. It's people who don't do yoga that need to do yoga."
On moving into postures, not through them:
"Are you moving or are you being moved?"
On his first time in the Southern Hemisphere:
"One of America's biggest exports is yoga. I'm honored that I get to come as an ambassador."
On Wanderlust Festival:
"I've seen the festival really grow from something very small to this worldwide force of power, of yogic expansion."
Daniel Scott on Moving and Being Moved in AcroYoga
About Daniel: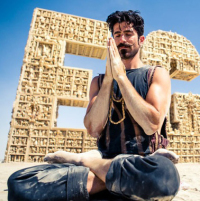 Not all yogis are created equal. Daniel Scott is one of them.
Offering a fresh alternative to the traditional "yoga voice", Daniel Scott's classes are mix balance and improv, strength and flexibility, breath and body. Daniel focuses strongly on moving into postures, not through them.
A globally renowned ashtanga-vinyasa teacher and Certified Level 2 AcroYoga instructor, he enjoys barefoot running, street art, good coffee, large quantities, and great qualities. Deeply dedicated to sharing in the immense journey from self-conscious to self-aware, this yogi provocateur strives to answer the ever-present question: Are you moving, or being moved?
Find Daniel here:
DanielScottYoga.com
Facebook.com/DanielScottYoga
YouTube.com/DanielScottYoga
Instagram @DanielScottYoga
Twitter @cloudintrousers
New Zealand Workshops So Far (More to Come):
January 16 – 18, 2015 in Auckland
Three hour workshop on Friday at Raw Yoga
All Day Saturday and Sunday at an Aikido dojo
Friday – Sunday – Wellington TBC
General Workshop Descriptions:
AcroYoga Master Sessions with Daniel Scott.
World-infamous AcroYogi provocateur Daniel Scott is coming to New Zealand for the first time! This mad scientist does things a little differently, so prepare to gain a whole new perspective. Beginner or beyond, the same rule applies: In order to get good, you've got to get better. Edges will be pushed and polished. Bases will fly, flyers will base, and everyone is going to learn to spot high-level awesomeness! These Master Sessions will grow organically. Foundations of balance and connection will be established. Bone-stacking redefined. High-level spotting skills honed. Beginners to Acrobatic Movement will be challenged. Intermediate and advanced practitioners will also burn with satisfaction.
Focus: Exploration of partner movement through gravity, weight distribution, and partner connection.
Skills Tested: Smooth entry/exit into/out of fundamental positions in pursuit of higher-level flow, Anatomical Balancing, Proprioceptive Acuity.Don't know what any of this means? Good. You will!