By guest author L. Farrah Furtado
About once a year, I discard my to-do list.
I leave my so-called "real" life in Kaohsiung, Taiwan and go to Victoria, BC where I was born and raised. I have been living in Asia since 2002.
I wear many hats.
I am a Hatha yoga and meditation teacher, a Reiki master, and a published author.
Taiwan has given me the luxury of freedom and a decent budget to pursue my hobbies and to travel 4-6 times a year.
When I visit Vancouver Island I have no car, no wifi, no cell phone, and my commitments go out the window.
However, I do keep myself very busy in Canada attending as many yoga classes as I can. Sometimes attending two varied styled classes a day.
An emaciated male Bikram Yoga teacher shouts out,
Choke the neck
and
It should hurt
and
Force your neck down to your knee
These are unkind instructions which I hardly associate with teaching yoga, but I heard these instructions often during the Bikram hot yoga classes I attended.
I would never even dare to give these commands during my ninety minute Hatha and Meditation yoga class I teach on Wednesdays and Saturday mornings in Kaohsiung, Taiwan.
Once a day in Victoria I go to the city by bus or bicycle and explore what other yoga styles I can explore.
I experienced a smorgasbord buffet of varied yoga styles during my three week visit to Canada.
I had a blast trying on all the dissimilar and latest yoga styles.
I tried water paddleboard yoga, Bikram hot yoga, acroyoga, Iyengar, meditation-yoga, Flow and also a corporate Lululemon Hatha class.
I was on a mission to learn something new and fresh to teach my yoga students upon my return to Kaohsiung.
Along the way I was also learning a lot about myself and how I handle challenges.
I attend yoga to train my mind, emotions and body to be unwavering and in control.
Above all, I go to yoga to be aware of solitude and the peace within myself, especially throughout times of turbulence and adversity in my life.
That is, if I can find that place of solitude within while bending my body into an awkward pretzel in feathered peacock while teetering on the verge of pain and exhaustion I know with more practice and acceptance I can handle anything.
The Bikram's Skeletor-Masters of the universe instructor yells at me,
You in the back with the red hair. Eyes open during Shavasana!
Pardon? Did he just say eyes open during corpse pose?
Um, ok, that's different. But I'll try it. Yup, this too, I got it. No worries, I can handle anything I remind myself.
Walking down the hill after yoga class and admiring the sea view from a cliff, I notice that my lungs have expanded.
Throughout my holidays I learned a lot.
It is possible to find solitude while keeping my eyes open during meditation and throughout the nastiness of my life. I also learned that it's good to be very uncomfortable sometimes, even while in my comfort zone (on my yoga mat).
Finding peace during times of discomfort is a work in progress.
I could find peace within my body not only during rest and eyes closed but eventually with practice I want to experiment with this and learn to find peace and solitude while my eyes are wide open during all of the discomforts of life.
I come to yoga to find peace and solitude no matter what's going on around within me and around me.
Is it possible to find peace during the challenge of a Bikram drill sergeant yelling in my ears unattainable commands?
Perhaps, and possibly one day I will completely find peace within me not only when everything is perfect but also when my life's riddled with discomfort.
Until then my lovely yogi's and yogini's, see you on the mat!
Namaste.
More about L. Farrah Furtado: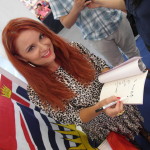 L. Farrah Furtado is a Canadian expat living in Kaohsiung, Taiwan. She is a Hatha yoga instructor, Reiki master and published author. She is also the co-founder of "Kaohsiung Yogi" a community based yoga co operative ( by donation). 
You can connect with her via her Facebook page or by email.