If you are looking for inspiration to get on your mat, sign up for a class or give yoga a go, then Yogawoman is the movie for you.
Yogawoman has a "You can do it" message and presents yoga as simultaneously appealing and accessible, something to aspire to without being too lofty a goal that we give up before we start.
Yogawoman attempts to address as wide an audience as possible, from those who have a mat and a practice, to those who might just need a bit of encouragement to get started and feel the difference.
It's an ambitious and generous project capturing the personal and the global, and filmmaker trio Kate McIntyre, Michael McIntyre and Saraswati Clere, do so with great heart.
Yogawoman upholds yoga as so much more than an exercise regime.
In Yogawoman, yoga is a pathway to transformation, peace and enlightenment.
Yogawoman reviews yoga's history as the prerogative of men and acknowledges the women who gatecrashed the party and went on to evolve its form and share its bounty.
Fast forward 80 years and we hear there are 20 million people doing yoga in America, 85% of them women. We see yoga being adapted by women for women, retrofitted to suit women's contemporary lives.
We are treated to beautiful images of all kinds of women practicing yoga, some accomplished and some just starting out. And before you think:
"I couldn't do that, I wouldn't look that good in a leotard."
We hear yoga teacher Cyndi Lee telling us the hopeful message:
"Start with who you are, where you are. Its just movement, it's just breathing. Everybody can do it." 
Comments from an integrative medical and yoga science research perspective are interspersed with personal testimony from diverse women the world over whose lives have been positively affected by yoga, it will:
"…save your life. It will change your life. It will make you so much more accepting of yourself than you have ever been."
Yogawoman captures the essential beauty of each of these real women.
Every one of them shines. Sweeping the globe we meet teachers from New Zealand, Italy, Germany, Japan and for the most part America.
We hear testimonials from participants in classes for pregnant women, incarcerated teenage girls, children, slum communities in Kenya, obese women, women with breast cancer and incontinence.
We hear the moving testimonial of a young woman incarcerated for 18 months introduced to yoga while inside and utilising her increasing ability to manage her self. Outside she resets her life's course and signs up for nursing training, now with yoga in her tool-box and an increased sense of responsibility and self-awareness.
A young Kenyan woman talks of becoming a yoga teacher and finding life-changing confidence in being called "teacher". A child attempts a back bend and gracefully collapses.
"Yoga doesn't care how many times you fall, it cares how many times you get back up,"
says a teacher of yoga for children. How great to be held consciously in lessons of sovereignty, self-worth, persistence and self-effort. We need more of this, in education, in physical and mental health, in policy, in our lives.
Yogawoman addresses the cycles specific to women.
Cycles like menstruation, pregnancy, menopause and looks at aging and the chronic stress of contemporary Western society, our overstuffed schedules out of synch with our need to rest.
Annette Bening's voiceover gives us American statistics on dieting and self-critique pointing to a crisis of self-rejection with myriad social pressures around how women work, eat, dress, look, age, succeed, earn and behave. Practitioners draw links between physiology, thinking and feeling co-opting yoga in a shift toward holistic health.
Beautiful images of faces, beaches, and women doing yoga give us moments of respite to contemplate and breathe during the film. Words identifying the issues women face prod our politics and personal stories. This applies to us.
Health is beautiful and these attractive women are great advertisements for yoga. However many of the women interviewed are not free from mundane concerns; vanity, success, mothering, health. Applying yoga as an approach to living they are pitting their wills against the social tide and doing something about their desire for a more meaningful life.
Beyond the mat that spills into social activism, and we see examples of women drawing on the strengths they have built through yoga to do good in the wider world. Yogawoman itself is a manifestation of that also, an attempt to make a meaningful effective film that inspires its audience to re-prioritise our wellbeing and in doing so positively affect the world around us.
Yogawoman is an activist movie, a call to be activated from within.
"To be out there in the world as you are."
It's revolution no matter how quiet, taking back our inner space from media messages, reclaiming self-sovereignty, and choosing physical health over financial wealth, peace over the stress we create while striving for prescribed "success".
My two favourite things about Yogawoman?
One, it was self-funded. These are filmmakers going out there under their own steam with the intent to have a positive effect on the world by making a meaningful film.
The second was being at the Auckland opening of the film and listening to filmmaker Kate McIntyre speak to, and take questions from, the audience. Her generous smile, steady confidence, well toned yoga arms and open engagement were great evidence of the practices promoted in the film.
A man asked from the back of the theatre:
"It looks wonderful for women, but what about men? How do men find this movie?"
Her genuine interested reply:
"Well, perhaps you can tell me?"
As a woman audience member I didn't particularly feel Yogawoman was gender exclusive, bar the fact that men don't menstruate or give birth they most likely know someone who does and the practises are no less pertinent for them I imagine. However, as a treat this time it was focused on women. Nice.
I was inspired.
I got up off my asana, dusted off my mat and went to class.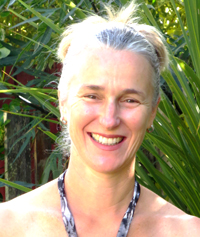 Cathryn Monro is a practicing artist based in Wellington, New Zealand.
She is a mother of two daughters and currently writing about the Yoga of Motherhood – journeying through the light and the dark.